Ready to start making money online but not sure what sort of business to launch?
It's essential, of course, to do your homework.
A clever idea is not a wealth-generating idea unless there's a market for your product or service.
But, if you need some inspiration to get you started, here are three recent online business success stories from around the world to demonstrate that the online market remains extremely lucrative no matter where you live or what expertise you have.
1. $4 Million-a-Year Online Bike Parts Company
Jean-Francois Lapointe, of Gatineau, Ontario, Canada took over his father's retail bike shop in 2006.
So, he was familiar with the business — and the lack of business a bike shop generated in the cold winters.
He didn't want to repeat his father's experience of collecting unemployment checks between Christmas and Easter so looked for a way to develop revenue during the typically slow season.
His idea to sell parts online quickly grew into a $4 million-dollar-a-year money machine, according to an October article in the "Canada.com"  For bike shop owner, path to sales is online"
LaPointe's idea made it possible for him to buy the business from his father in 4 years instead of 10, open a second retail store in the Ottawa area , triple the size of his staff and earn an Entrepreneur of the Year award from eBay, where he sells most of his bike parts online.
2. Online Model Agency Gains MTV as Client, Shows Profit in First Year
Daniel Rolph, of Leiston, England, opened an online casting business in 2009, when he was 20, and today has a business worth £150,000 (about $242,000 U.S.), according to an article posted on the EADT24 website.
At Stomp Models, Rolph manages a talent pool of 600 performers and his clients include MTV.
The young entrepreneur told EADT24 that he wasn't academically inclined in high school and owes his fast success in the online market to three factors: hard work, focus and research.
Rolph recently added a clothes line to his entrepreneurial efforts and now has 300 garments in his collection.
3. Online Horse Betting
Gambling websites enjoy a great online market, but Congress has passed laws that make entering this market a legal minefield.
But an enterprising mind found a way around the laws:  online horse betting.
Federal laws permit interstate gambling on horse races, according to an article in the "The Courier-Journal."
Luckity.com, for example, relies on horses to determine winning bets, but its market is wider than fans of horse racing.
If you want to bet a lucky number you don't win based on the spin of a wheel, but on how well a horse places in a race.  It's a legal (for now) numbers racket because horses are the gambling device.
The target audience is women older than 35 whose primary gambling interests are slot machines, social networking games and the lottery, Ted Gay, president of Churchill Downs Interactive told Gregory A. Hall, a "Courier-Journal" reporter.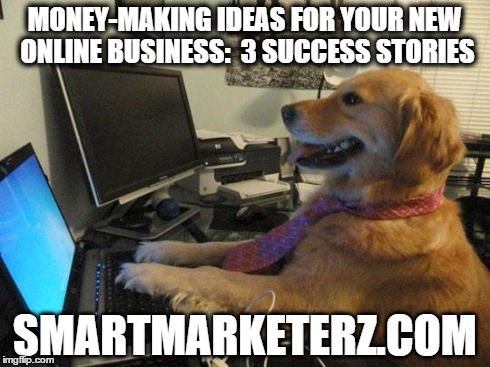 What's Stopping You?
All three of these stories were reported within the past couple of years.
Despite the economy, despite the crowded Internet market, despite every real and imagined negative, people everywhere, every day are creating wealth online.
So, there's unlimited opportunity to write your own online business success story.
Start today with these three tips.
1.  Go Digital
A product that you can create and distribute online demands much lower start-up costs than physical goods.  And the digital product can serve as a catalyst for your offline venture.
Let's say you've always wanted to open a bakery, but you don't have the capital.
Try offering online cake decorating classes or publish an ebook of recipes.
Use the sales — and the audience you develop — to help fund your dream bake shop.
Your efforts may impress investors as well as lenders.
2.  Get Social
It costs nothing but time to grow your market online.  You don't need to buy expensive ads or hire a marketing company.
Post detailed profiles of yourself and your company on the major social media sites such as Twitter, Facebook, Google+ and Pinterest.  And get active on them.
Follow people and companies who share common interests and goals.
Thank everyone who follows you and, initially at least, revolve conversations around them, not you.
You can get more mileage — followers and fans — out of a single, heartfelt response to something someone else said than you can with posting 100 links to your website.
3.  Keep Going
If your new venture is important to you, you will find the energy you need to go the distance with your business.
Few success stories happen by accident.  Get the advice and support you need to start writing your own success story.
Being successful sometimes requires a little bit of craziness.
Who will know what will be the next Big Thing on the internet.
May be your idea!
Do you have some particular projects?
Please share it in the comments below, thanks!