With issues such as job insecurity and impending economic crises around the world, there are many people who are truly desperate to try to find alternative methods of earning an income.
One of the ways of doing this is generating an income online through writing.
It is a known fact that blogging, for instance, can bring in a huge income each month (of course by hitting all the right buttons).
However, if you read most of the online thoughts that people share, you will find that most of them tend to have a defeatist attitude towards this.
For instance, most of the people will say that blogging for money does not make much sense, since you will end up putting in a lot of effort for a minimal amount of monetary compensation.
However, the one thing that you need to accept right from the start is that it is certainly possible to make a decent income through blogging (and even more than "decent"!).
The only thing you need to do is make sure that you keep some of the issues below in mind when you start, such that you are hitting all the right buttons.
Manage Your Expectations
The first and most important thing you need to keep in mind when you are thinking of blogging for money is managing your expectations.
You need to know how much potential blogging can bring for you, given variables such as how much of time you are willing to allocate to write the content.
This will enable you to not get disappointed in your quest to earn some money through blogging.
Tip : from experience, it's better to start blogging as a passion, or a part-time hobby, while having another job, and evaluate later the possibility to transform it into a full time income.
Choose a Niche Wisely
If you are thinking about blogging for money, you also need to be very keen on the kind of topic you choose to write about.
For instance, if you decided to write personal memoirs, you should not expect to earn any money out of the blog unless you have very interesting stories that will draw a lot of traffic.
The best way to find out which topics can be most profitable for you is by using one of the online keyword analysis tools (like Google Keyword tool, for instance), which will show you which keywords are popular.
You can then build your blog around such keywords and thus gain much more traffic from search engines.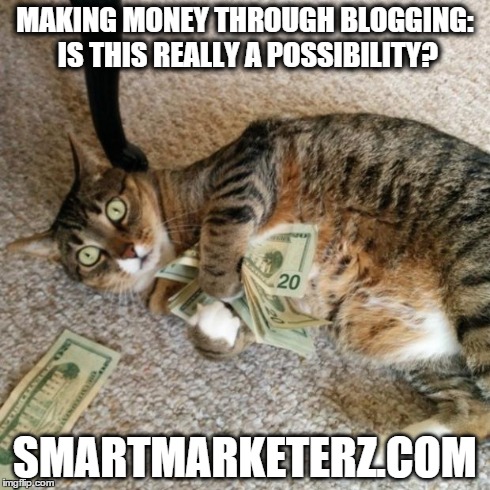 Choose Your Affiliates Wisely
One of the best ways of monetizing a blog is through the use of ads that are placed on the page.
People can click on these ads (links or banners) and you will then earn part of the revenue generated by the company you work as an affiliate for.
When choosing such a company, you need to consider issues such as frequency of payout as well as how much they pay per click to ensure that you do not get a raw deal.
You also need to make sure that you work with an affiliate program that can provide ads that are customized according to the kind of content that you provide, so that they can be relevant to your readers.
Also, be sure to try the product or the service you wish to be affiliate for, as this must be good enough to promote it to your readers.
Be Consistent
This is perhaps the one thing that determines whether you, like some of the hardworking handful, will be successful in making money through blogging or not.
If, for instance, you tend to lose interest in the project early on, you will find that it is very difficult to make any significant amount of money out of your blog.
By observing disciplined schedules such as posting articles regularly (and make the proper promotion), you can keep providing your readers with worthwhile content, and this will result in increased income.
All in all, blogging in itself is not a get rich quick scheme.
It requires determination, effort and of course ideas to make your blogging relevant as well as exposed to a huge group of readers consistently.
Do you have what it takes to blog for money then?
Have you reached your goals with your blog?
Are you making some money with your website?
Please share your experience in the comments below, thanks!