All of us want to see our sites on Google, because this is probably one of the best ways to get traffic and make money.
Unfortunately, it's not that easy.
You know there are different methods to get traffic. In this article, we're going to discuss how to get more traffic while building your backlinks.
While we get links from other sites, you can also get traffic from time to time. Some of your links can get a lot of traffic; others not so much.
Below, I'm going to cover several tricks to get more traffic for your sites and blogs, while you build your SEO.
Let's get into details.
Video Sharing Sites
This is probably the best way to get traffic. Believe it or not, if you make and share videos the right way, you can get a lot of traffic for your site.
Don't create only one video with a link back to you and then leave it. This is what most people do. Video traffic can be a goldmine for you, if you know how to make that. Just try to optimize your video a little bit, and you won't be making a mistake.
The trick to getting traffic from your video is to rank it on YouTube (that is if you use YouTube, which I would recommend).
Like Google, YouTube has a search bar that people use to search for different keywords, and believe me, YouTube ranking is a thousand times easier than Google ranking.
Another thing you can do is try to rank your video on Google. Since they are connected, Google loves to rank YouTube videos high in their search results.
Fortunately, YouTube ranking and Google ranking are affected by similar factors. In order to rank on those sites, you have to do several things.
The first thing you need to do is put your keywords in your video title, description and tags. Think about this like on-page optimization.
Don't choose only one main keyword; choose at least one main keyword and a lot of long-tail keywords.
YouTube is much less competitive than Google; in some cases, your on-page optimization will be almost enough to rank your video on YouTube on the first page.
However, if this doesn't work for you, here's what else you can do. Other important YouTube ranking factors are view counts, ratings, and comments.
Just share your video on any social networking sites to try to get more views, ratings and comments. This will help increase your ranking. If you find that you still can't rank, you can try to get some links for your videos.
Get these links the same way you get links to your site.
Just spend some time on optimizing your video and you should be able to get a good amount of traffic.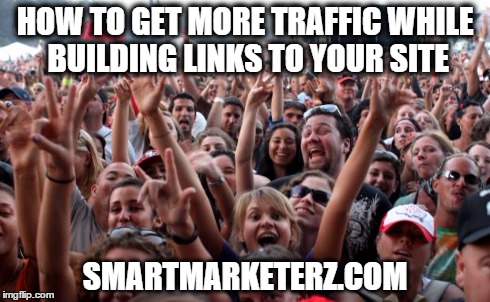 Aside Youtube, here are the top 9 free video sharing sites to spread your video across the web:
Document Sharing Sites
Document sharing sites are becoming more popular in the SEO game these days because sharing PDF and other files is an effective way for SEO specialists to get backlinks from sites with high PR.
Document sharing sites can also send traffic to your sites.
Think for example about creating and submitting an ebook to about 100 document sharing sites. You can get in return a nice amount of visitors!
There's another thing—similar to my previous example—that you can do.
Like YouTube and Google, document sharing sites tend to have search bars. Fortunately, they get a lot of traffic from people searching for ebooks.
What you can do is optimize your ebooks to rank high on those sites. How do you do that?
Well, we don't know exactly how these sites ranks their ebooks, but what I can tell you is that it's very similar to the way Google and YouTube work.
All these sites consider your title as one of the most important factors; that's why you have to place your main keywords in your title.
Will it be easy to be number one on Google for "make money online"? Probably not. But being number one for that phrase on these sites will be easier.
Just put your keywords in your title and you'll see your ebook placed on the first page.
Tip: Create catchy titles
What I've found is that you can significantly increase your traffic if you create catchy titles. Let's say you create a title like "How to make money online."
Well, you may think that this is interesting, but believe me, there are a millions titles like that one, and most people will considered it as a scam.
You need to create something better.
Here's an example: "How to make money online with legitimate paid surveys, starting today."
This one is much better because: first, it tells people how they'll make money (with paid surveys), and second, it says "legitimate"—there are definitely a lot of people who think that most surveys are scams, so this word will help.
It also says "starting today," which is helpful because people will read it and know that they can start making money today.
As for the ranking: such a title will rank for "make money," "make money online," "paid surveys," and so on.
The best part is that these are search terms that people will definitely search for.
Here are the top 8 DoFollow document sharing sites where you can submit your material:
Blog Commenting
The last thing I want to discuss with you is how to get traffic from blog commenting. Most of you probably think that if you write quality comments, you'll get traffic.
This will definitely help, but what traffic would you get if the blog where you comment has no traffic either? This is why you have to comment on popular blogs.
Here are several ways to find these popular blogs. First, find blogs that rank on Google for any keywords that has good traffic. There are a lot of blogs on Google in almost any niche. You can just go and post your comments on some of those.
Next, find popular blogs in your niche and start posting comments on their newest posts. This way, a lot of the blog's regular readers will see your comments.
Believe me, if you do it the right way, blog commenting can not only give you a valuable backlinks that Google will love, but also a great amount of traffic (and most important, new connections within blogosphere).
Conclusion
In this article I presented you a few of the best ways to get traffic while building backlinks.
But there are many more ways.
What do you think?
Do you have any more hints to share?
Please let me know your thoughts in the comments below, thanks!