Marketing your business online (or content, or blog, or product) is a requirement.
You must have a comprehensive online marketing strategy in order to remain relevant in the modern business world.
While it may have been enough in the late 1990s, simply having a website is no longer sufficient.
Your business must have a complete internet marketing strategy, which must constantly expose your business to new potential customers.
Once they are on your website, it must be designed to convert them into customers.
A well-executed online marketing strategy will actually grow your business, not simply increase your website page views.
What Exactly is Online Marketing?
Online marketing is a blanket term that covers any type of marketing that uses the internet to help grow a business or website.
Ever since the birth of the internet, people have been trying a variety of techniques to help use the internet to market a business.
While some of these techniques were ineffective or are now outdated, there are still dozens of effective techniques that any business can implement.
Take some time to learn how to measure the effectiveness of your marketing initiatives before you begin implementing an online marketing strategy.
According to Yahoo Business, each type of marketing initiative will have its own metrics that should be measured.
For example, if you are using a content marketing approach, you should be measuring unique visitors, traffic sources and conversions (email sign ups or sales).
A Five Tiered Online Marketing Strategy for Success
The following five tiers of online marketing will certainly be a part of your marketing strategy for your business.
Explore each one of these items individually.
You may even wish to hire professionals to help make sure that each item is properly implemented.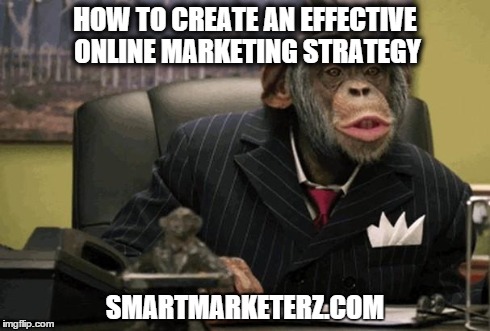 1. Content Marketing
According to Forbes contributor Jayson Demers, content marketing will be even more important in upcoming years.
Internet users are becoming increasingly selective with the types of content they'll consume and they expect companies to deliver high quality content.
According to Content Kung Fu, a leading content marketing firm, content marketing is defined as using different types of content to distribute valuable information that builds trust and authority.
This is commonly done with blog posts, videos, podcasts and images.
2. Relevant Social Media Marketing
Social media marketing is a required element of any modern marketing strategy.
However, using relevant social networks is becoming increasingly important.
As recently as a year ago, Twitter, LinkedIn and Facebook were all most companies needed to care about.
Now, there are many segmented social networks that are catered to certain types of content.
Make sure that your business has a social media marketing strategy that is focused on social networks relevant to your industry.
For example, businesses that lend themselves well to images, such as fashion or art, should focus on Pinterest, or Instagram.
3. SEO
 Search Engine Optimization (SEO) is the act of optimizing your online presence for search engines.
SEO techniques seem to come and go every few years, but one technique always remains: provide high quality content.
High quality content should be written to be easily understandable by search engines but has a focus on human readers.
Content marketing and SEO initiatives go hand in hand to create a powerful online presence.
Additionally, you should form relationships with other bloggers and companies who will link to your company's website.
4. Mobile Optimized Content
Mobile devices have taken the market by storm and should not be underestimated.
Forbes estimates that by 2017, 87% of connected device sales will be tablets and smartphones.
This means your online content must be optimized for mobile platforms.
You can do this either by creating a responsive site design or a separate site for mobile users.
In the past, most companies opted for a separate site.
However, creating a responsive site has become the better option so you can focus your efforts on a single site.
5. Ad Retargeting
Ad retargeting is one of the newest items on this list and it has already proven to be extremely effective.
Essentially, when a customer visits your site, you place a cookie on their computer.
When they leave, they'll start seeing ads for your service on other sites (like Facebook and anywhere with Google AdSense).
This powerful technique has garnered much attention because it continually places your logo and message in front of the same people.
It's estimated that only 2% of traffic converts on their first visit to your site, so ad retargeting is a great way to earn extra visits.
Be Patient and Persistent
Each of the above online marketing strategies take time to prove their effectiveness.
Continually attempt to provide high quality content that is optimized for mobile platforms, reach out to other bloggers and have a powerful social media marketing strategy.
Given enough time and effort, you'll see profitable growth.
What's your online marketing strategy?
Do you have something to add, other than the points mentioned in this post?
Please share your views in the comments below, thanks!