Traffic, traffic, traffic!
As any other blogger, you also want to receive waves of people willing to read your website.
But unfortunately, often you don't have the adequate return in terms of visits.
Today, thanks to MyBlogU, I have 9 experts sharing their best ways to get web traffic.
Enjoy!
Question : Please share your best ways to get web traffic to your blog/site.
Ann Smarty (Founder)
So far my biggest success with driving traffic has been StumbleUpon. When anything goes hot on StumbleUpon, you get several months of low-converting (still good) traffic. The very first article that I felt that with was this one. When I was writing it, I had no idea what StumbleUpon really was, then I was a huge spike in traffic and discovered the platform. The traffic from it is still coming, even though the article is many years old. As you can see from comments, many of stumblers actually interact.
At that time, that article looked somewhat innovative: No one was talking about color in that respect. Also the chart and the visuals made it look nice, so it did well on SU. I also found ViralContentBuzz and SU ads (promoted URLs) can help a piece go hot on SU as well but you still need the basics: SU-friendly article and a good relevant category it was "discovered" in at SU…
Paul Manwaring (Paul @ IMH Blog)
I think it really comes down to having something to say on your topic that has your personality on it. Regardless of the niche that you enter you are more than likely going to come across a website that has already done it but don't be put off by this. Try to create content with your personality, it will surely come off unique in some way and visitors will enjoy reading YOUR views on the subject.
Apart from having personality and knowledge in your niche, things like understanding on-page seo can give you a nice boost in traffic. Essential plugins for getting your onpage seo in check are:
Yoast SEO Plugin
SEO Friendly Images
W3 Total Cache
I've been doing not bad on Pinterest. In fact, it's my #1 referral (higher than Google!)
I haven't done anything special about it: I just make sure to add a good picture in my blog posts. Pinnable quotes are doing particularly well! I am using this tool to create them: http://quotescover.com/
I pin my own blog posts and all the other pins are generated almost organically. I am also member of a couple of active Pinterest shared boards where several contributors can add images to one board. I am getting a lot of referrals from those group boards. I would recommend anyone to go ahead and find relevant group boards on Pinterest.
I guess that also depends on the niche: Food, DIY, stay-at-home moms, kids – all these are doing GREAT on Pinterest and very easily.
Anna Fox (Blogger)
I am not really a very experienced / knowledgeable blogger but I got my first traffic spike just recently. I did a MyBlogU group interview and it got quite a few answers and here's what happened to my traffic:
Traffic spike on my blog thanks to @MyBlogU interview #wow -> http://t.co/f2OG18PEaw pic.twitter.com/K9yxnniINP

— Hire Bloggers (@hireblogger) August 5, 2014
I think a few things contributed to the traffic boost:
ALL the contributors shared it (I didn't even have to ask!)
MyBlogU was promoting it as well
It features personal stories which I guess resonates with readers (so they are willing to share)
I am going to publish my second group interview soon and see if it does good as well. So far I like what I see. Also after the spike, the traffic didn't quite go away completely… It's higher than it used to me. I actually feel as I am not alone any more. 🙂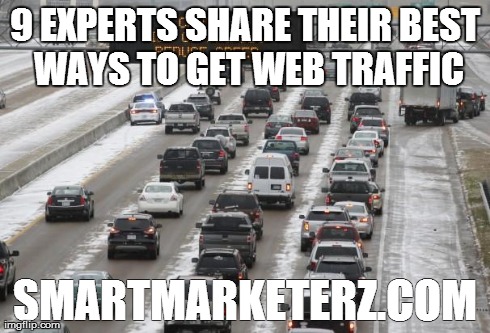 Nishadha (Freelance Digital Marketer)
For me one of the best ways that give long term results is search engine optimization. Most bloggers focus a lot on creating and adding content to their blog but often ignores the SEO part which is rankings. Of course you can optimize the blog post with proper titles, good keyword density etc. but to rank for any targetted keyword you need back links.
This is why there is often gaps between posts in my personal blog. Whenever I write an article I tried to get it to rank for that targetted keyword. This way all the effort I put into creating the article will be justified because of the long term traffic potential.
merylvdm (Social Studies Chat)
I have found one of the best ways to get traffic to my education blog is through forums. I knew the best forum in my niche and had already been active on it before I started my own website and blog, so it wasn't hard to continue participating there. I use my signature to point to specific pages or posts on my site. I change my signature regularly to highlight whatever I want them to see and then I just participate in discussions and try to provide valuable insight. I do not promote my website at all – excpet in my signature, but now I am thrilled to see that my website regularly pops up in other discussions on the forum and so my traffic from this source just keeps on growing.
hhoefele
Two underutilized sites that can generate quality traffic are: Slideshare and Medium.  I have found that both writers and readers of those sites seem to truly care about the information being shared and the topic being discussed there.  Thus, you will get more quality and qualified traffic than quantity.  Both sites are free to use, have simple interfaces and also conveniently provide simple built-in traffic stat trackers.  However, the key to getting these sites to work for you is to clearly indicate what action you want your readers to take: whether it is to subscribe, click on a link, download an ebook, etc.   These calls-to-action are free form, so it is up to you to determine where to put them, what links to use, and how to write the copy to be most effective.
It has to be Search Engine Optimization.  What other marketing strategies allow you to build up a steady stream of traffic that grows exponentially the more effort you put into it?  Done right that traffic is highly relevant, searching for specific keywords that you can benefit from.  Sure it takes a lot of time and effort to build up that SEO strength, but the benefits can last a significant length of time – pretty much until Google changes up their algorithm drastically.  Even then, you still have a solid base to climb back up the rankings.  When your site has that SEO strength you can also easily rank for all kinds of other new keywords simply by posting new content.
Andy Nathan (Start Up Gap)
My favorite way to drive traffic is through blog tribes. Not only do you create solid connections with amazing bloggers throughout the world, it is also a goldmine for networking with other bloggers in your niche.
Additionally, blog tribes increase your social media reach. Over the years, I have generated tens of thousands of visits to my site through various blog tribes.
Finally on Triberr, I have build solid relationships with many great bloggers in my niche. Through these relationships I guest blogged on JeffBullas.Com, MichaelQTodd.Com, and SteamFeed.Com. The blog posts that I wrote on Jeff Bullas's site alone have generated a few thousand dollars in business.
Conclusion
Thanks a lot to the aweome participants of this interview.
And I hope you have leaned something new from reading these experiences!
Do you have something to add?
Can you share your best way to get traffic?
Please let me know in the comments, thanks!