Becoming a professional is the dream of many new bloggers.
There are some steps and suggestions that you can follow that may help you reach the success online.
Of course during the life of your blog, you can learn a lot from your experience, but there are also things that you could understand today, in order to avoid making certain mistakes.
But can you recognize these errors?
I propose you a list of eleven points. Be sure to read it with attention.
1. Copy Other Bloggers
During your career as a writer, most of all at beginning, taking inspiration from other bloggers is inevitable.
After all, you are eager to check popular blogs and wonder how you may become one of them.
However, your blog should soon make its own personality, that is yours.
You must be original and spontaneous.
Also, as you will invest passion and efforts in your blog and its content, you may want to know how to protect your content from copies and plagiarisms.
Of course, you know that Google (with its latest algorithm updates) penalize badly who just copy and paste other content in their sites.
So just do not do it!
2. Do Not Create Quality Content
Your visitors want just one thing from your blog: high quality content.
They are there just for that.
So if you want to become a good blogger, you have to give them what they want.
Of course, writing interesting posts requires strong efforts, but you will get paid later on when you are going to receive many visits and comments.
If you want to write high quality articles, be sure to follow these basic rules:
create something original;
write correctly in your language;
balance text and images;
optimize the content in SEO terms;
before publishing the post, read it again. And again (Also use Grammarly to proofreading and checking any spelling mistakes)
3. Go Off-Topic
A blog is an online journal that talks about a specific topic. Just one, or a few others related to that one.
See, for example, "making money online" niche, and related marketing methods, or "blogging", and related SEO and Wordpress guides.
Of course you should insert in your articles some of your personal experience (and this helps a lot in building trust with your readers), but do not go too much out of topic, stay focused and related to what you are writing about.
If you disobey this rule and begins to talk about anything, you risk confusing your users.
And remember, your RSS and email subscribers want to receive updates about the topic of your blog, not anything else.
4. Give Random Titles to Posts
Your post titles should always be relevant to the subject they treat.
In addition, each title must be catchy: you have to convince your visitor to read your articles.
The same can be said for the opening sentence of each of your post.
Then keep in mind that the post title is in H1. And the use of other H2, H3 (and so on) tags is a very important factor for placement in Google SERPs.
Therefore, optimizes well your titles and learn some SEO tips to improve your blog.
Tip: Do you need a tool to help you generate good blog titles? Try this one from TweakYourBiz.
5. Put Advertising Everywhere
Making money with a blog is legitimate, if you are passionate about your topic and if you write quality content.
However, you should avoid filling your blog with too many advertising. The visitors are on your site for your content, not just for your advertising.
In addition, with the latest Panda updates of January 2012, Google penalize heavily blogs built only to make money with banner ads and text ads.
Specifically Big G suggests NOT to put advertising "above the fold". All the efforts made from Google with the updates on how to rank the web, are in order to enhance the visitor experience with internet.
The reason is simple : Google does not want to suggest a URL at the top of the SERPs to an user (after he make a research), which may be, after visiting that site, remain not satisfied and may want to change the Search Engine in order to find better solutions.
So do not be greedy and be careful not to overload your site with too  many banners and ads.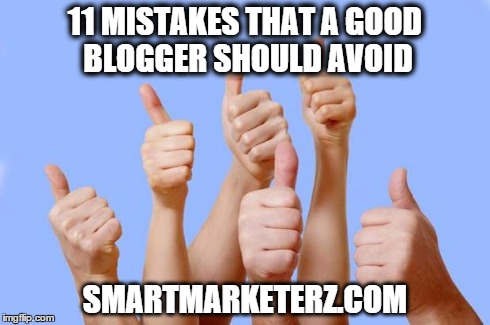 6. Do Not Know Anything About SEO
Any blogger should know some basics of SEO.
Because without it, the search engine positioning of your site will be left to chance.
You should understand, for instance, about on-page and off-page rules.
What should you do while creating your content? For example, decide in advance what will be your keywords, optimizing your writing for them, also in your titles, text and images.
Of course, there is so much more to know about SEO, but understanding the basics is important to start ranking well in SERPs.
7. Be Discontinuous in Your Publication
For a blogger, consistency is very important. If you have decided to post twice a week, you have to respect the days in which you will publish your new posts.
You do not want to be one of those who, for some reason, write and publish 10 articles in very short time and then nothing for a couple of weeks. Then again 5 posts, then silence for 3 weeks.
You need to think about your time and your weekly activities, then decide your publishing time and stick with it.
The lack of consistency is a serious mistake:
– first, because who is not constant, fails to retain the readers;
– second, because the number of visits you may receive is directly proportional to the number of posts you have written.
8. Ignore Spelling, Grammar and Syntax
Your online authority depends on what you write, but also how you write it.
Making mistakes in spelling or grammar may destroy the confidence of your readers. Therefore, Google pays attention to how your content is written.
So be sure to use a simple style and easy words to understand.
Pay attention to not make errors in spelling, grammar and syntax. The quality of your content can not afford it.
A logic tip is to read again and again your article, before publishing it.
9. Create an "About Me" Page Not Clear
It seems strange, but many bloggers create an "About" page, where you do not understand what they do in life or because they opened their blog.
The page of your presentation is very important: write and explain clearly who you are and what you do.
Including a picture of yourself is also important, as your readers want to see how you look like.
You may also want to make a video with your presentation.
I use the "Comment Redirect by Yoast" plugin: it redirects the commenters who just made their first comment to a page of your choice.
I have chosen to redirect to my "Thank You" page.
On this page, you could ask the commenters to subscribe via RSS Feeds or via email, follow you on social media networks and a lot more!
10. Not Reply to Comments
It is a mistake not responding to the comments of your posts.
This is true both in case of appreciation that in case of negative criticism.
Try to build a community: answer to comments, but also ask for more. And do not be afraid to make questions to your commenters, as you can receive some good information from them.
I use the ReplyMe (included in the CommentLuv premium) plugin: it sends automatically an email to the author when someone replies to his comment.
11. Do Not Monitor the Statistics of Your Blog
If you do not closely monitor the statistics of your blog, how do you figure out what works and what does not?
A blogger makes careful use of all the statistical analysis tool available, such as Google Analytics or Google Webmaster Tools.
Any other mistake that you experienced and you want to share?
Please let me know in the comments, thanks!