Getting more traffic to your website is a huge deal.
People have a million ways that they do this.
Some of these ways work and some do not.
Some ways require a huge investment of either time, money, or both.
Some just take a few minutes but make a huge impact.
These ways I am about to tell you fall in the latter category.
They do not take a lot of time or money to do, but they can help your blog get a lot more traffic than ever before.
1. Guest Posting
Yes, guest posting is safe and still working, if done the right way.
Guest posting is a simple exchange. You provide quality content and you get a mention to your blog.
If you can get a guest post opportunity on a good site and you write relevant content, you can get some quality traffic.
It is linking with the benefit of not only getting your search engine rankings up, but also encouraging organic contacts with real readers.
2. Blog Commenting
Commenting on other people's blogs or posts is a great way to not only get your links on your sites, but also to engage with the community.
If you can make friends with other site owners, you can band together to share information and even readers.
There does not always have to be a competition, cooperation works better for everyone involved.
As you know, building connections and creating relationships online within your niche is always a smart investment of your time.
3. Accurate keywords
You have to be accurate in how you classify your site and posts.
If you target the wrong keywords, you get the wrong search results and the wrong readers.
It will not matter how good your content is if it does not match what they are looking for.
Make sure you use keywords accurately and with the best possible words so that your posts and site can be found by people who really want what you are offering.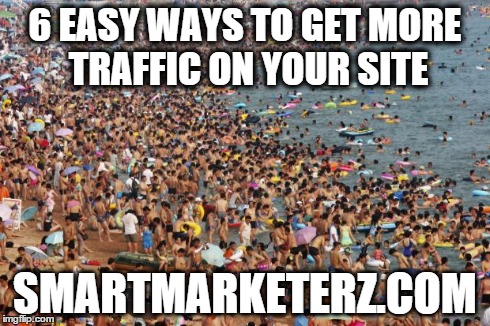 4. Keep it short
Making your paragraphs short helps readers to stay interested in what you are saying.
No one wants to read a big chunk of text!
If you can break up your content into smaller paragraphs, you will be much better off and have more people stay on your site.
5 . Use lists
In the same way that people like to read short things, people also love post lists.
Lists make it easy to scan and see which points appeal to them.
They also let the reader know ahead of time exactly how long the article will be.
Sometimes they have time to read a list of ten but not of a hundred!
Lists will get attention and bring in more readers.
6. Make it strange
For some reason, strangeness sells.
The more odd your titles and content are, the more likely it is that people will want to stop and take a look.
Having strange content is a great way to get attention.
It can be about current events, celebrities, or weird news.
Your title should make them think twice when they read it and make them want to click on it to find out what it is all about.
Strange titles and content are a great hook for new readers.
Conclusion
These tips are not difficult to apply.
They really should not take up a lot of your time.
They are also free to do.
But they are a great way to get more traffic to your blog or website.
What do you think?
Do you have some hints to add?
Please share them in the comments below, thanks!