As a blogger, you know just how vital readers are for your website's success.
How valuable is a blog that no one wants to read?
Visitors who come across your blog expect it to spark their interests.
If not, your blogging efforts won't result in an increase in traffic.
Here are some tips to ensure that you publish blog posts that your visitors actually want to read.
Your Title is the First Impression
We've all heard the old saying, "Don't judge a book by its cover."
But, when it comes to blogging, your visitors will always judge your posts by their title.
It's a natural response.
Therefore, you need to make sure your title catches the attention of blog visitors, and lures them in to read it.
One great tip for coming up with a good title is asking yourself, "If someone asks me to describe what my article is about in 10 seconds or less, what would I say?"
The answer to this question should be the title of your blog post.
If your title doesn't hook your readers in within seconds, your blog won't get much traffic.
Ensure that your blog post titles pique the interests of readers, making them interested in what you've published.
Don't Forget the Basics
Publishing blog posts with simple, basic errors is one of the quickest ways to lose your target audience.
Always take the time to check and recheck the following before publishing your posts:
– Do a Spell Check
– Proofread for Grammatical Errors
– Check to Ensure All Links are Correct
– Proofread to Ensure that Sentences Flow Smoothly
– Make Sure Your Content is Relevant to Your Blog's Niche
It's okay to make a few spelling errors, typos and other mistakes when you write.
However, if you want to build a blog people actually want to read, your readers should never see these mistakes.
That's why it's so important that you proofread your content, make necessary revisions, and proofread again before publishing.
This is a great post at ProBlogger : 11 Blog Proofreading Tips You Can't Afford to Ignore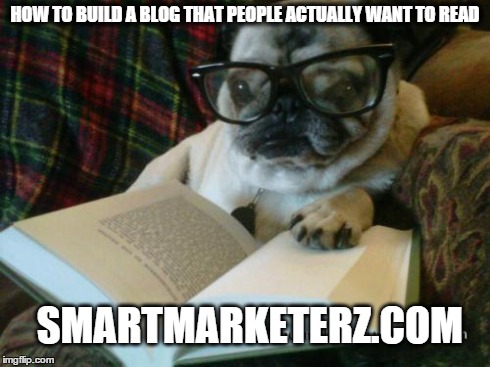 Must Bring Value to the Lives of Readers
When readers land on your blog, they're hoping to find some great insight on a particular topic.
Your blog posts must bring value to the lives of your visitors to keep them engaged. This is also important to keep them coming back for more.
The best way to ensure that your blog brings value is to decide who your target audience is.
Knowing your target audience will help you understand what they're looking for online.
From there, you can share your industry expertise with an audience who's already interested in what you have to offer.
People conducting searches online are looking for a solution to a problem they're having.
Providing them with the knowledge they need to make an educated decision about a solution helps you create a relationship with your market.
This relationship is one of trust, which will help you gain lifelong, dedicated readers.
Add Interesting, Relevant Images
Always remember that "a picture is worth a thousand words", especially when it comes to blogging.
Your image choices should be relevant to the content in the post.
They should also be interesting enough to capture your audience's attention.
People love visuals.
Images also help to break up your content, making your text more pleasing to the eyes.
Before publishing your posts, search for images that help to engage and entertain your readers.
If your post is instructional, images that actually show the process you're writing about will help your visitors understand your content better.
Keep Your Posts Organized
Readers pay attention to the way blogs are organized.
Blogs that have clusters of words all over the place tend to turn readers off.
The text becomes overwhelming to look at and search through, causing visitors to leave, and never return.
Here are few suggestions :
– Blog posts need to be written using bolded titles and paragraphs that are organized, and short. This improves the look of your blog.
– Break your posts into sections using h2/h3 headings. This not only makes your posts look more organized, it adds to your SEO value. Search engines pay attention to keywords, putting even more value into h2/h3 headings.
– Add categories to your blog. Make sure that each post is placed in a relevant blog category. This makes it easier for your readers to sift through your posts to find what they're interested in reading.
Quality Trumps Quantity
The most important thing to remember is that your audience is seeking quality information about a particular topic.
The amount and length of the posts you publish is nowhere near as important as the quality of your content.
Your posts should intrigue and entice your readers, not put them to sleep.
What do you think?
Do you have any other tips to add?
Please let me have your views in the comments below, thanks!