Quentin Tarantino is my favorite film director, screenwriter and producer.
His movies are characterized by strange storylines, with a magnification of violence.
I am a big fan of titles like Reservoir Dogs, Pulp Fiction, Kill Bill and Jackie Brown.
So, since Quentin is not a blogger, what can we learn from him?
There are few lessons we can take from his movies.
Let's take a look.
1. Divide a Story into Episodes
Especially when the story starring a blond pissed off and armed with a sword. 😉
Kill Bill is divided into two episodes, and could not be otherwise because it is a story to tell with great attention to details.
Details that catch the attention of the people, but they need the right timing.
Online writing should be streamlined and simple, but this does not mean that you can't devote your efforts to larger projects.
Be sure to share your larger articles via episodes, may be with weekly appointments.
2. Put Your Face in Your Blog
It is not difficult to trace the presence of Quentin Tarantino in his movies.
Some are obvious (in the film Reservoir Dogs he is one of the robbers), in others more veiled (in Jackie Brown he give his voice on the answering machine), but Tarantino is one who likes to put the face in his work.
Do it on your blog and while you write your content.
Share personal stories and talk about your experience.
Also, be sure to show your personality in the content you write.
Don't forget to propertly set up your "About" page ( a picture is a Must! ).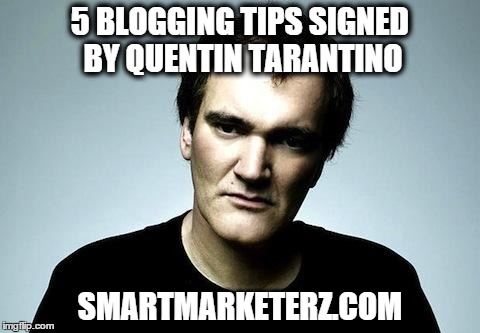 3. Use Internal Links
Did you know that there is a Pulp Trilogy?
It begins with Reservoir Dogs, continue with True Romance and closes with Pulp Fiction, all topped off with a series of references that connect the episodes of the saga as a web.
Try to imagine all the posts in your blog as a small part of a larger story.
In this way, you can help your readers discover it with internal links.
Plus, it's good for SEO!
Tip : use "Broken Links Checker" plugin to discover broken links within your blog and archive.
4. Stand on the Shoulders of Giants
Quentin Tarantino takes inspiration from many directors, producers and movies (spaghetti western, for example).
His films include a multitude of references to many different genres – from horror to westerns – but it is not a mystery.
In fact Tarantino has always admitted his passion for references.
For this reason, you do not have to be afraid to take inspiration from popular bloggers in your niche : stand on the shoulders of giants and reach higher goals!
Do not say steal, but get ideas and, above all, quote.
If you quote and gives credits, you will never be wrong.
5. Do Not Forget to Dare
Quentin Tarantino is great because he never stopped to dare, to be special, to be unique.
Think about Pulp Fiction, or the world success of Kill Bill.
What can you learn from him?
Be original!
Be Yourself!
Show your personality!
And do not be afraid to dare or to follow your intuition.
Sometimes you can make mistakes, but you will always learn from them.
If you have some crazy ideas, you can give a shot and see what happens. You will never know if your project will be the next revolution of the web!
With time you will be able to reach huge goals.
Conclusion
Hope you enjoyed these points taken from Quentin Tarantino.
I love his movies, there is always something to learn.
So it should be your blog.
Your readers should have always something to remember from your content (not your ads!).
Are you a fan of Quentin Tarantino?
What do you think?
Can you add some more points?
Please let me have your views in the comments below, thanks!