How many times have you found a blog post promising to help you make money online, and then being disappointed finding out there were no practical suggestions, but only fluff?
I guess most of the times.
In this post you are going to read the answers of 4 bloggers about two important questions on how to earn an income with the internet, with the mention of resources and practical tips.
Enjoy!
Q. What Are Your Top 3 Ways to Make Money Online?
Paul Manwaring (Paul @ IMH Blog)
For me it was developing personal skill that I could then sell as a service. This has been by far the most lucrative and effective way of earning money online for me.
Using websites such as Freelancer, Fiverr and oDesk I have been able to make $1000+ per month. This is consistent income and I'm also learning on the job so it's the best of both worlds.
Developing these personal skills also greatly improves what I can now do when running my own blog. I have the skills to customize a theme, design graphics for my blog posts, create professional, edited videos for my youtube channel. The list goes on, and I would have to pay someone else to do all this for me, and it would likely cost me $1000+ per month to do it to the quality I create myself.
Andy Nathan (Start Up Gap)
My three favorite ways to make money online are as follows.
First, I am a freelance writer. Most of my business comes from blogging, email marketing, copywriting, social media posts, and ebooks content for clients. I generally get business from writing for top blogs, referrals, and even get some business from the job boards.
Second, I am the author of the new book, Start Up Gap. It is my 2nd book on Amazon, and 4th book on Kindle. The book makes some money, and promotes my freelance writing abilities.
Third, I also do some business and marketing coaching. As a former teacher, I know best practices for guiding entrepreneurs. I have a few coaching clients that I work with to develop their own business.
Anna Fox (Blogger)
I don't have 3 ways as I've only been successful with one. 🙂
I make money online by providing writing services. I wish I could find more sources of income but I am still getting there!
I am a paid contributor and a ghost-writer working in multiple industries. Selling copy writing services hasn't bee hard. Lots of people are looking for original content! I started at Digital Point several years ago, simply replying to "Looking for copywriter" help.
After 7-8 months of doing that diligently and providing good content, I accumulated a few recurring clients and a few agencies that outsourced content writing to me. Since then I haven't had to even look for order as I still rely on those relationships. I can't take more as I am writing everything myself and I don't want to hire anyone to help as this will make things more complicated!
Pramod Sharma (Best way to make money Online)
I personally don't trust in selling advertisments but for a begginer it would be a best way to get a strat with their online career. But if you want to get enough to make living out of it here are three ways which you should consider as final goals:
1: Selling products or Service: If you are an expert enogh in your field, there is always an opprotunity to sell your expertise knowledge into an ebook, consulting or coaching, DVD, software etc. Once you do that, with perfect marketing and promotions you would be able to earn much more than any other method online.
2: Affiliate marketing: Affiliate marketing is one of the way that many bloggers are already succesful with and making  quite a handsome money online. The secret to be succesful in it is hiddin in the content, prduct and your audeince.
3:Product review: This is method that I personally use on my blog to generate income.To get good sponsers and product you should not wait them to get to you, instead go and give them the offer to get feature on your blog.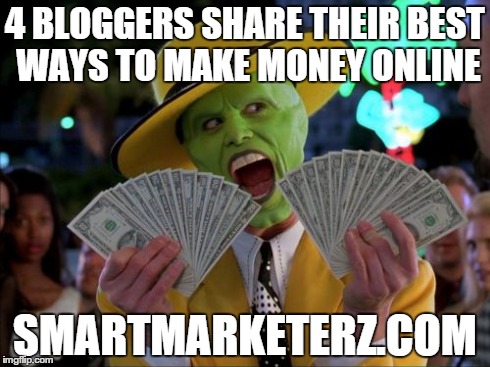 Q. Please Share 5 sites to Help You Earn With the Internet
Paul Manwaring (Paul @ IMH Blog)
Fiverr – Great for small, quick jobs, the marketplace is a little crowded now so it's hard to get your foot in the door compared to when I started but if you can offer something of quality you should make sales.
Freelancer – My biggest earner for me, this month alone I've landed a $500 job as well as a few $200 jobs. If you can create a decent profile and communicate effectively you should be able to make a decent income. You need to have a skill to sell though!
Other that I don't use anymore myself but helped me make my first few dollars.
Microworkers – easy jobs that require little thought. Pay is low but I have a friend just starting out and is making approx $50-100 per month
Surveybods – One of the few survey sites that are legitimate and actually pay.
Digital Point Forums – Head over the the job offers section and try to pick up some low-skilled jobs.
Andy Nathan (Start Up Gap)
Here are my favorite 5 sites to help you earn money on the internet. This is in no particular order. These are all sites that earn me money through the three ways that I earn money through internet marketing.
http://problogger.com
http://kdp.amazon.com
http://paypal.com
http://createspace.com
http://startupgap.com (OK! Maybe a little biased here)
Anna Fox (Blogger)
I am sharing 15 sites I am using to contribute paid articles from time to time here.
I'd also highly recommend this article by Ana Hoffman "Why Traffic Generation Café Is Not Making as Much Money as It Should" discussing how running a popular high-traffic blog doesn't translate into the huge income. I think she is making a great point there:
the only thing that stands between you and online income is YOU.
Pramod Sharma (Best way to make money Online)
In online world the best part which I love is that you don't need to spend your money in order to learn something because there are number of people around to help you out for free.
Here are 5 sites that help me and teach me to earn online.
www.smatpassiveincome.com
www.dailyblogtips.com
www.problogger.net
www.johnchow.com
www.bloggingtips.com
Conclusion
Thanks to the bloggers who shared their knowledge in this post and thank you for taking the time to read.
I hope you found something interesting to help you make money online.
I would like to hear your experience too.
Can you answer to the first or the second question mentioned in this post, leaving a comment below?
I am excited to learn from you too!
Thanks! 🙂