One of the main challenges faced by any organization is the recruitment and retention of. Employees are more than likely to leave a company when they don't get paid on time. To keep them happy, content, and motivated, you need to pay their salaries regularly.  
Considering the fact that most of the clients pay their staffing agencies at different times they'll have a shortage of funds when it is time to pay salaries to their employees. What is the solution? Payroll factoring.  
With payroll factoring, a staffing company can receive their payments in advance by sending their client invoices to the staffing factoring companies. The staffing agency receives quick funds with which they can take care of their company's expenses and pay their employees on time.  
On entering into a contract with a payroll factoring company the staffing company submits their invoices along with the details of the due date of the payments. The factoring company gives up to 90% of the total amount to be received.  
Points To Consider Before Choosing A Payroll Factoring Company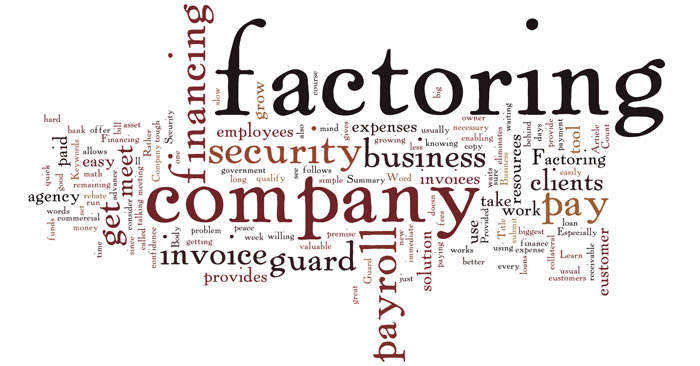 1. Quick Funding
Quick/fast funding allows you to get the payment within a day or two. You receive the funds through wire transfer or ACH payment on submitting your invoices.  
2. Minimum Amount
Certain payroll factoring companies require the staffing agency to finance a certain amount of money or you'll be expected to pay a minimum amount of money to them as a monthly fee. Only then would they accept you as a client. However, this is not a requirement by all the factoring companies.  
3. Advance Rate Facility
The advance rate offered by different payroll factoring companies varies. The amount received could be anywhere between 80%-90% of the total amount in the invoice. Make sure you have an understanding of the percentage of the amount held in reserve and the percentage of the amount advanced. This will enable you to determine whether the cash advance would be sufficient to meet your on-going needs. 
4. Credit Insurance
Credit insurance is purchased by certain companies to give your company credit protection. In case your client goes bankrupt, this insurance will protect you. Though you'll have to pay an extra amount as insurance charges your company wouldn't have to face the burden of paying the factoring agencies the charges your clients couldn't pay. 
5. Full-Service Option
Some funding companies provide you full services including filing for tax returns, paying salary to employees, invoicing, and collecting payments from clients. 
6. Credit Analysis Of New Clients
Some companies carry out a credit analysis of new clients. This can help you determine the likelihood of getting your payments on time. 
7. Online Reporting System
Check if the company you are entering into a contract with has an online reporting system. This includes reports on collections, purchase, advance, and reserve.  
Keep in mind the above-mentioned services being offered by different companies. Consider what works well for your staffing agency before entering an agreement with a payroll factoring company.