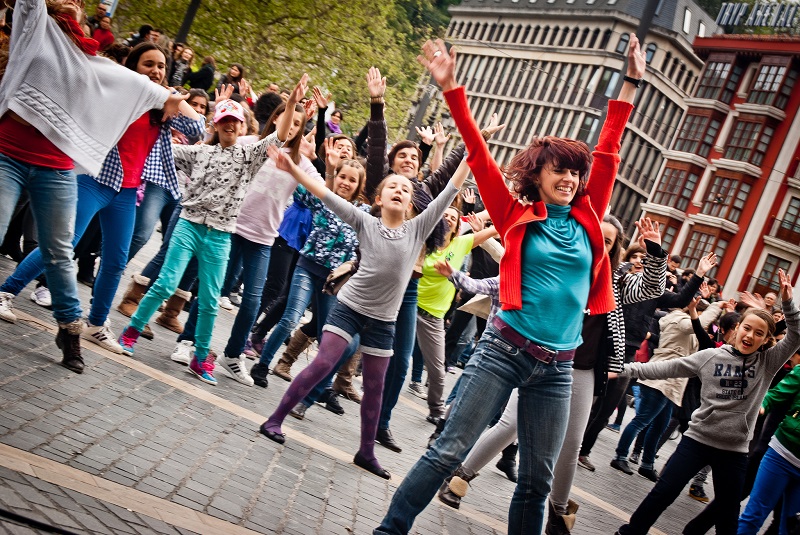 Flash mobs: everyone's favourite guerilla marketing trick (source)
The world of modern business has become obsessed with online marketing. Social media, SEO, and digital tricks are now the most talked-about topics on the web.
Entire blogs are built around them, and new industries are flourishing because of them. However, don't forget about the real world!
Don't forget about the traditional marketing methods that still work. For this post, we've pulled together 8 fantastic offline techniques that really work.
1. Networking
If you asked us what single technique will produce the most effective business results, it's networking.
Getting out and connecting with other people in your industry is the surest way to open new doors.
You'll find new opportunities and leads faster than any online marketing campaign or advertising.
Attend conferences and show up at networking events. You won't regret it.
2. Flyers and brochures
These are your core elements of offline or traditional marketing. However, many companies still ignore them.
Used in the correct way, they can be very effective. When it comes to flyers, it's all about placement. You need to leave the flyers in the right place for your target audience.
For example, leave flyers for your healthy eating business at the gym.
3. Posters
Much like flyers and brochures, posters are excellent marketing material when placed in a good location. The great thing about posters is brand awareness.
Marketing experts say that customers need to see your branding at least seven times before they trust you.
Using posters in your local area is a great way to build this trust and awareness.
4. Interactive marketing
People love marketing that interacts with them. Get creative here, and think of new ways to draw people into your world.
That's why QR codes worked so well for a short while. They let customers scan a barcode and get extra information in the real world.
You can do a similar thing now with NFC tags. Visit NFC Direct for more information about this next-generation technique.
5. Guerilla marketing
There's still nothing quite like a guerilla marketing campaign. Things like flash mobs, and cleverly placed stickers always elicit a positive response from passers-by.
Anytime you can grab attention, and work your way into a customer's world, you've won.
For big results, use guerilla marketing in tandem with social media to capture viral attention.
7. Events
There is no better way to launch a product than with a high-profile launch night. Journalists and tastemakers love being treated to free drinks, and a product display.
So, host your opening event, and invite the local industry to give it a true opening.
8. Handwritten notes and cards
It's easy to forget that good marketing is all about looking after your existing clients and customers. You can do this with a simple handwritten thank you note or card.
It evokes an emotional response, and you'll secure plenty of further business.
Don't get us wrong, we love social media and online marketing as much as the next guy.
But, try to remember the real world too!