The dream of every blogger is to have a successful site, getting many visitors and comments.
You are looking to increase your audience and discover new ways to make traffic.
Here's a list of 10 evergreen tips to improve your blog.
1. Write About What YOU Know Well
Actually, you should already have done this, when you have chosen the topic for your blog.
Write about things you have mastered: the sense is that the argument should coincide with one of your passions.
Even better, if you find a topic that match with some particular niche, with low competition.
2. Write More Than Quality Content
This is always the best tip to follow: in addition to writing about things you know, write posts really useful to visitors.
Be original: do not copy content from other sites.
Be different: try to write about something new, if you can. Or try to be the first one.
Use internal links to increase user experience: when you write new posts, include at least one internal link to your high-quality old posts.
3. Follow the High Experts in YOUR Niche
Visit the blogs of famous and popular experts in your niche. Find out what topics are hot and which are obsolete (you can use also Google Trends to find out what is trending right now in the internet).
Leave constructive comments, with backlinks to your best posts.
Build friendships in your niche.
Be sure to learn the best from them and try also to give something.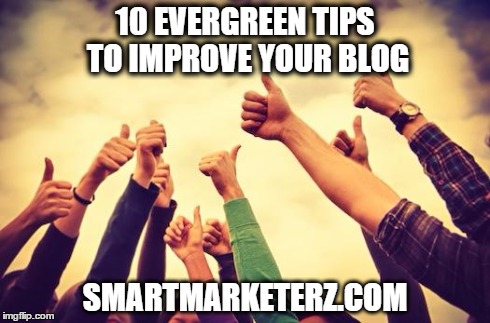 4. Update YOUR Blog Often
Create new content often, or at least try to write on a scheduled basis, that match with your duties.
Work or your time possibilities.
The visitors like the freshness of the content of a blog. Also Google, with its Caffeine update, like the Freshness!
So this will be a reward also in search engines terms with an increase of your online traffic.
Write at least a couple of posts a week (or more if you can). But try just to be consistent.
Create posts with lists: people like useful articles like "10 Free Tools to Boost Your Blog Power" or "6 Ways to Make More Money Online".
5. Insert Images in YOUR Posts
Adding images in a post makes a more effective communication of your message.
I always include one or more pictures in my articles, depending on how long they are.
Remember to optimize images with SEO techniques: use your keywords in the description, and take care of the alt text or tags.
Be sure to choose relevant pictures, that match the content.
In addition to your posts, the optimized images can position itself in searches for images and become an indirect source of traffic.
6. Choose a Simple Site Layout
The simpler, the better.
Your blog should have a nice layout and usable for visitors. Therefore, no complex design or graphics confusing.
Choose a layout simple and clear.
Here I list also three things that you should AVOID:
– any unnecessary or excessive use of coding on a page;
– any use of JavaScript's in the content area;
– any use of flash objects on your site.
I have chosen Genesis Framework ( highly customizable and awesome design): it's wonderful if you want to have a professional looking blog or if you just want to differentiate from the most part of traditional available free WordPress templates.
7  Hold Down the Weight of the Pages
Watch the weight of your pages : also Google judges the value of your site, counting upload time.
The loading time of your blog should be fast enough, in a way to not bore your visitors (you can try this Free tool from Google, to check this out and get insights on how to improve your site).
Consider that 1 second loading time is quite fast, 3 is normal and more than 6-7 seconds is considered extremely slow!
You can follow some easy tips, like resize the images before publishing them in your post and install the WordPress plugin WP Super Cache.
8. Reply to Comments on YOUR Blog
Interact with visitors of your blog: respond to their comments.
Increase the engagement with your readers, build an online community.
Use the ReplyMe feature, included in the "Premium CommentLuv" Plugin : it sends an email to author automatically while someone reply to his comment.
You should then answer to all "smart comments", in order to enhance conversation.
Even better, you may add sometimes a question to your readers: you should be surprised of the nice help you may receive!
 9. Share YOUR Content with RSS feeds
The blog post must be shared via RSS feeds.
10. Interview Bloggers in YOUR Niche
This is quite popular and trending right now in the blogosphere.
Organizing an interview by email with the most popular bloggers or even audio recorded, could boost your traffic.
Try to get the most experienced and well-known bloggers in your niche.
Remember to ask smart and unique questions!
Any other tips to improve your blog?
Or to get more traffic?
Please share your suggestions in the comments below, thanks!