The fastest way to the blog cemetery is to write a nondescript, vague blog that has no focus, no central theme, and no specific audience.
Once you have your main concept in place, the next most important step is to determine for whom you're writing your content.
Before you answer, know that your answer can't be "everybody."
This is when you have to put on your marketing hat and think like a professional.
"Everybody" doesn't love the television show Everybody Loves Raymond. Everybody doesn't like Matt Lauer or enjoy Lancome cosmetics.
So everybody won't enjoy your blog.
You need to figure how who will.
Isn't My Audience Going to Be Obvious?
Before you go trying to figure out whom your audience is, you have to first accept that your audience may not be whom you want them to be.
Confused? Don't be.
Many celebrities and musicians have fan bases they didn't necessarily cultivate on purpose.
If you visit online fan websites or watch red carpet affairs on entertainment television, you'll notice that the online posters or screaming fans are not always who you might expect.
And those celebrities and movie stars might have been surprised in the beginning to find out which demographics appreciate their work, but they are happy to take the fans they get. You should be, too.
For example, you might start a cooking blog intended for women.
You might post lots of pictures of appetizing entries and colorful desserts, alongside you as you pose with your creations.
It's conceivable that more men, who may have absolutely zero interest in cooking, visit your website than women.
They might just enjoy looking at the delicious-looking food, or the attractive woman who is creating the awesome blog.
It's your job to determine who your readers are, and then to write for them.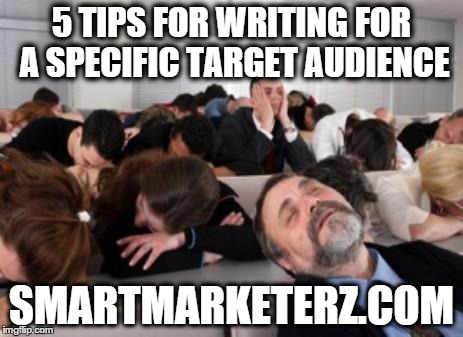 How Do I Figure Out Who My Audience Is?
There are several ways to figure out who your audience is.
One example is to create an online forum on your site where members can talk to one another and share comments about your site.
Since most commenters choose usernames that don't necessarily reveal their gender or age, enable avatars on your site.
This will let you determine at a glance if your readers are male or female, as well as their general age bracket.
Once you find out who your audience is, the next step is to write content directed to them. Following are five tips to get you started.
Really try to tailor fit your content to your audience
Tweet: Really try to tailor fit your content to your audience. via @smartmarketerz
1. Get into their heads
If you find, for example, that a new blogger really loves your blog and is tweeting about it, go back in time to when you were a new blogger.
Try to recall what issues were on your mind when you were starting a website, and how you saw the blogosphere.
You don't have to dumb down your content or use words you wouldn't normally; this will likely appear disingenuous and backfire.
Instead, simply address subjects new bloggers would be interested in. This could include guides, how to, and mentioning useful resources.
Go with the flow and keep your finger on the pulse of your audience by being empathetic.
2. Follow their lead
If your readers are blogging, tweeting, or posting comments on your Facebook wall, give it right back.
Do as they do: Tweet and use Instagram, and post comments on their walls, or blog posts.
This will make your audience feel like there's a real connection between you and them.
They will see that you are "in their club," so to speak.
This is called, power of reciprocity.
Check this article at Adrienne's blog: Do You Know the Key Ingredient to Blogging?
3. Practice a little give and take
If you can arrange some reciprocal guest blogging with another site your readers frequent, that will increase your own credibility in the eyes of your target audience.
In addition, it will improve your page ranking (if done well).
Lastly, you might just gain more readers from the other site where your content appears.
Don't be shy about promoting your own site in your brief bio.
Include a link to your URL and an email address where readers can contact you.
Sharing common goals with others is a great way to make new friends, too!
4. Stay involved
Allowing your readers to post comments on your blog posts is great, but your job doesn't end there.
You should reciprocate and comment on their posts too, to let them know you're paying attention.
5. Keep your content fresh
Include a mix of media.
These days, it's simple to embed short videos or podcasts into your blog.
Make it interesting so your readers want to keep coming back.
The best blogs are image-rich and are frequently updated.
But even if these two qualities are in place, if the blogger seems aloof or absent, readers will dwindle.
Stay focused on your blog and keep connected with your readers, whomever they may be.
What do you think?
Do you have something to add?
Please share your views in the comments below, thanks!