Are you sick and tired of struggling for a few more unique visitors daily?
It's all hard work, and with all these Google updates it's getting harder every day.
Moreover, the returns of your effort can be rather low unless you manage to score a top position in the search engines.
Check this example.
Let's say you have 5,000 real and engaged visitors monthly to your site and you are making $2,500 out of it, selling an ebook. This is a decent and rather realistic conversion for many web marketers.
How hard do you have to work to double this revenue? You know how hard is to get these 5000 visitors, so it must be much harder to double them, don't you think?
But you don't have to.
There are better and easier way to increase your revenue. There are a couple of concepts you must have in mind.
Conversion Rate
Conversion rate means how many of your site visitors end up reaching your target goal – which in our e-book example is actually buying this product.
So, if your ebook price is $29 and you are making $2,500 from 5,000 visitors, this means approximately 86 of your visitors are buying the book per month. Which means you have a conversion rate of 1.7%.
Such conversion rate is pretty common and it's not very good. I'll tell you what's good. Raising it three times is up to 5% is good. And it's much easier than raising your traffic three times!
So next time instead of wondering how to squeeze the next 100 visitors from some link, or how to make Google raise you 1 position up in the rankings, better think how to improve the conversion rate on your site.
There is of course no universal solution to this.
But there are several important questions to ask yourself.
Check the following points.
Is your site visually compelling?
Be careful here because a site that's impressive just for the sake of being impressive may distract your customers.
On the other hand, a site that looks ugly and cheap is unlikely to sell your products well too.
The site design must be dedicated to one and only one purpose: increasing conversion rate.

Are there calls to action?
In our ebook example the call to action will be a "buy now" button.
Check your button: is it big and noticeable enough?
Is it above the fold?
If your sales copy is long, does the button show up often enough so the customer nearly all the time can see it on the screen?
Don't be afraid to focus user's attention on your call to action.
How credible is your site?
Having good testimonials or other social proof, having your picture on the site, having your own relevant domain name, supporting SSL connection, being Paypal verified, having contact details, TOS and privacy statement.
All these are elements that can increase the credibility of your site, and therefore the conversion rate.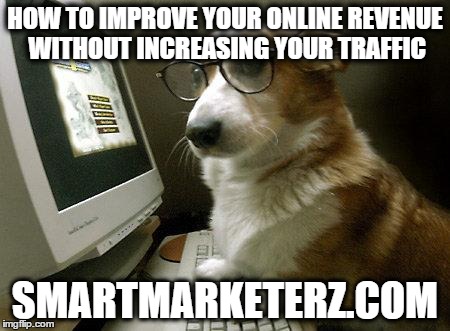 Do you have a clear title element?
Your title must be short and to the point.
It should make it clear what you are offering and why it is good.
Focus on benefits.
People are most interested in what's beneficial for them in your offer.
So instead on focusing on features ("150 colored pages!", "50 hours of instructional video!"), better focus on what's in it for them.
How good is your site copy?
It's not a surprise that the best copywriters charge thousands for a single sales page.
Copy does matter and a good copy can increase your conversion rates several times.
There are so many elements on your site that can lead to a sale or exit.
So learning about the conversion rates and experimenting with them can bring you much better return than fighting for more traffic.
Of course, not having visitors at all means you won't make any sales!
But once you achieve good conversion rate this means you will be able to afford spending on advertising and PPC to get these visitors.
Pricing
Another very strong instrument for increasing revenue is your pricing (of course, you can only change your pricing if you own the product you are selling – this will not work for affiliates).
If you have successfully raised your conversion rate to 5% you would be making $7,250 of your 5.000 visitors instead of the $2,500 that you made before. Not bad, eh?
Now, imagine that you raise your e-book price to $49 while still making the same number of sales. This would mean $12,250 monthly revenue! Just a couple of on-site changers  can lead to $10,000 extra revenue per month.
Now compare this to fighting for more visitors…
Of course it's possible that the sales will drop due to the higher price. But they can also raise, because many people are more inclined to buy info-products when they have higher price!
I've seen this over the internet – for example many people would skip a $17 priced app (or another product) because they simply assumed they were low quality, while the same people would buy when the app was priced at $27.
It's a question of finding which price is bringing the highest revenue.
A raise in price will sometimes lead to less sales but still more revenue due to the higher revenue per sale.
Other times it will increase the number of sales too, thus doubling the effect on the revenue.
Finally if you make the price outrageously high, no one will buy and your revenue will drop down to $0.
A/B Tests
But how to know what's the right price?
How to know if your on-site copy is good and your design is compelling?
Good question.
Guessing will not give you the answers. One of the best ways to find out is to do A/B tests. This means to test two versions of your site and see which ones leads to better revenue.
After you have enough data (usually 200 sales total should be good), you compare both and drop the loser. Then create another improvement and start another A/B test.
You can keep doing this as long as you are getting any increase to your revenue.
Here are some general considerations about A/B testing:
– use software tools for A/B tests. There are free and open source ones for most technologies available;  
– make sure that the same user is present only one of the A/B versions even if they refresh the page;
– try not to change many elements at once in the two versions. A/B tests work best if you change only 1-2 elements (for example the page title, some image, the layout etc) because this shows you which part exactly worked best;
– be careful with A/B testing different prices as this may be illegal in many cases. If you want to test different prices, better do it at different times – so at any given time all visitors see the same price;
– try to draw out conclusions of the tests instead of just dropping out the loser;
– you can use A/B tests not only for sales, but also for goals like newsletter or auto-responder subscriptions.
Stop the tests when you stop seeing improvement.
At some point your maximum possible conversion rate will be nearly reached and you will need to go back to working for more traffic.
Or just to sit back and enjoy the profits.
While increasing revenue by these means is most powerful for people who sell their own products, affiliates and even Adsensers can also use them.
Properly placing your ads on the page, or giving strong call to subscribe can help you earn more from ads as well in the long term.
Conclusion
I hope introducing these concepts will help you optimize your online revenue.
What do you think?
Are you running A/B tests?
What's your conversion rate?
Please share your thoughts in the comments below, thanks!