Today, many people are making money online through new opportunities on the Internet.
Running a blog is just one of many ways people can make money by sharing their creativity online.
If you've ever thought about making money through your writing, read ahead for some useful tips on maintaining a blog that will appeal to advertisers and visitors.
1. Choose a Niche
Many of the most popular bloggers found their popularity by picking a niche topic.
For example, if you're interested in food, you could start a blog about your favorite recipes.
A blog that covers every topic will have difficulty attracting a consistent audience.
Blogging about one particular topic will also help you attract advertisers related to your niche.
2. Establish Your Presence
If you want to succeed at blogging, you need to establish a lasting presence.
Hosted blogs have their place, but buying your own domain and web hosting gives you the opportunity to create a permanent home for your writings.
Additionally, having your own website means you have the freedom to do anything you want with it.
You can even create or buy your own custom design to personalize your website.
3. Build Your Audience
To become a successful blogger, you must work hard to expand your audience.
You won't make any money from your advertisers and sponsors if you don't have a solid audience.
Use social media and other tools to spread the word about your website.
Take the time to interact with others in your niche community to create healthy traffic back to your blog.
You can do this by leaving comments on related blogs or guest posting on a friend's website.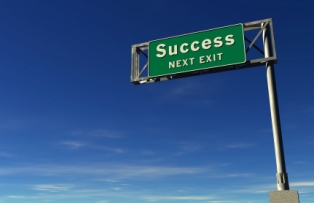 4. Enable Comments
Most blog systems give you the option to allow visitors to leave comments on each of your posts.
Comments offer you a great way to host conversations among your visitors.
If someone leaves a comment, you should respond to them as soon as possible.
Good interaction on your part helps keep the discussion about your opinions alive.
You can help foster discussions by ending your posts with a question or thought-provoking idea.
This is an interesting article from Enstine Muki :
Hidden Blog Commenting Trick For Huge Traffic & Networking!
5. Develop Your Brand
Developing your online name and brand helps you stay consistent across other websites and social networks.
If you go by your real name, always sign up for new social networks with this name.
You should also pick a profile icon to use on your blog and your social networks.
This icon will represent you and your brand.
6. Search Engine Optimization
Most Internet users rely on search engines to find useful information online.
These search engines are great tools for building your online audience.
Many successful bloggers see their traffic increase after learning how to use relevant keywords and clear titles in each of their blog posts.
Proper search engine optimization helps search engines to bring new traffic directly to you.
7. Be Creative
You can expand your blog's influence by attracting new visitors with a few creative ideas.
Consider throwing a contest for a product that relates to your niche.
For example, if you write about movies, host a movie trivia contest with a related prize.
Fun and unique content will appeal to your regular visitors and generate enough buzz to attract new ones.
8. Don't Give Up
Curating a blog takes time and energy before it will become a successful hit with visitors and advertisers.
Keep updating your blog frequently so that your viewers always have fresh content waiting for them.
If you ever feel frustrated with your blog's progress, schedule a few posts to publish automatically with your blogging system.
If you want to succeed in blogging, you must exercise patience.
Conclusion
Making money through blogging is possible, but it will take creativity and work on your part.
The competition for online advertisers and visitors is fierce, but if you can continue to offer quality content, your audience and influence will grow.
What is your experience in the field?
Can you add something useful?
Please let me have your thoughts in the comments below, thanks!