It's not just about getting in touch with consumers when in business; it's also about reaching the right customers at the right time. You put in long hours to produce quality products or services so you don't want your hard work and efforts to go to waste.
Review ways to get in touch with the right customers so you can give yourselves a better chance at increasing your sales. If what you're currently doing isn't working then this is a great opportunity to switch it up and try a new approach. You'll likely find that you're not only able to get in touch with the right type of clients but that these people are more willing to hear you out.
First Define Your Target Audience
One way to get in touch with the right customers is to first figure out who these people are. Document specific traits and attributes of your target audience and what they look like on paper. Figure out what their interests are and how they like to spend their time and money. It's not a wise idea to assume everyone out there is going to fall in love with what you're selling and become a loyal customer. It's worth your time and energy to narrow it down and dive deeper into getting a better grasp on who exactly it is that's willing to hand over their hard-earned money to you.
Advertising
Advertising is also another practical way for you to get in touch with the right customers. For instance, pay per call advertising is a reliable approach that has many benefits and will draw the right type of people to your business. Being able to have a real conversation with someone who's genuinely interested in what you're selling will lead to higher conversion rates. Many advertising solutions allow you to define your target market first so you can make sure your message is getting in front of those who are most important to you.
In-Person Events
You can also get in touch with the right customers by hosting or attending in-person events. Go where your target audience is hanging out and spending their time and have a conversation with them. Be sure to collect contact information for whoever you meet along the way and to follow up with them in a timely manner. Put your products or services in the hands of interested consumers and be there to answer any of their pressing questions. There are plenty of industry trade shows and conferences available for you to attend or you can host your own customer appreciation event sponsored by your company.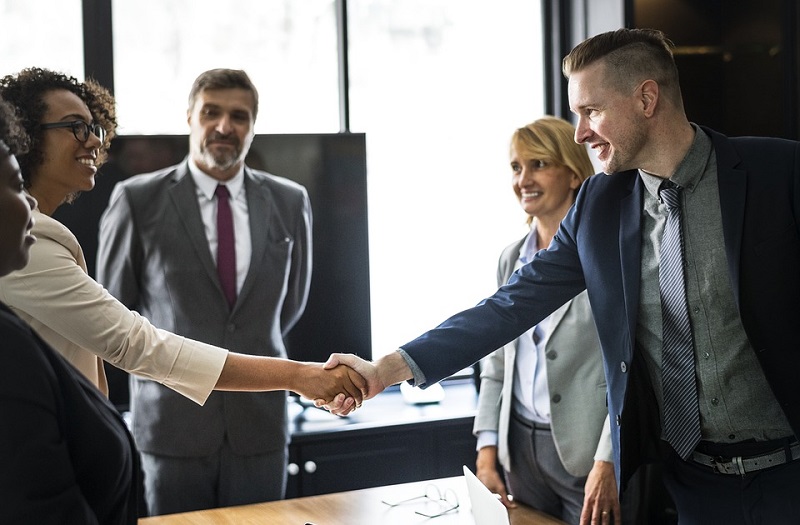 Email Campaigns
It's a wise idea to always collect email addresses along the way when you're developing and growing your business. Email is a quick and efficient way to notify current, past and present customers of upcoming sales or special promotions you're offering. People are on their phones all the time, so it's a good idea to drop your target audience a message every once in a while and stay in touch. Those who do care about your business will remain on the email list, and those who aren't interested will unsubscribe so over time you'll slowly be forming a group of reliable paying customers who you can stay in contact with regularly. And if you want to sale things up, you might want to consider hiring an email marketing agency.
Send out Newsletters
Send out newsletters at your company so you're delivering quality information your customers are interested in on a consistent basis. Get in touch with the right customers by using a regular newsletter as a way to make sure you're able to keep in constant contact with them. Come up with a calendar you can follow so you're not sending too many updates at one time. Also, make sure the information or articles you include are interesting and timely and won't turn people off. It's a better idea to use these newsletters as a way to provide free knowledge to your customers instead of as a means to advertise.
Be Active on Social Media
Social media is an excellent outlet for getting in touch with the right customers and building a following. Be active in this space so that your audience gets to know your company better and has the desire to want to interact with you. Respond to comments or inquiries and don't be afraid to propose questions as well to get conversations going. Over time the right type of people will start to like and follow your page and posts and these platforms will be a practical and easy way to communicate with your target audience. Social media will connect you instantly with your customers instead of having to wait around for a response to a phone call or email.
Launch A Blog
A business blog is a great way to get in touch with the right customers and give back to your followers. Setting up a website can even be free at start as you won't have a lot of traffic, but it's a good option to consider serious business hosting services from the get-go. Provide high-quality and informative content that your readers will find interesting and care about. The right people will eventually begin to flock to your website and blog because they'll start reading your articles and will want to learn more if the topic pertains to them. Share your blog posts on social media to help drive traffic back to your website and also make sure your readers have a chance to make comments on your postings. This will open up the lines of communication and give you a chance to start conversations with the right types of customers.
Conclusion
It's a waste of your time to try to go after or market to large groups of people without having any strategy behind your actions. Use these tips to help you get in touch with the right customers so you can increase your chances of closing more sales. Your business will be more successful when you're having conversations with people who are truly curious about what you're selling and want to learn more. You have to be proactive and know this will take an extra effort on your part, but have confidence that your hard work will pay off in the long run.