With the internet era and the advent of social media, entrepreneurs are increasingly aware of the potential of using online marketing channels, gaining visibility, networking and creating quality leads.
The traditional techniques of outbound marketing (eg, direct mailing or printed advertising) are becoming less effective, and companies are transforming their marketing efforts to focus more on programs that allow customers to find them.
Therefore, the ability to use social media effectively is becoming a fundamental part of any business strategy.
Below you may read how you can use social media in order to improve your online presence, connect with your audience and increase your business.
1. Social Media Presence
You have to find the social media networks that best meet your needs and invest your time to create pages and profiles for your business.
Use sites like Twitter, Facebook, Google Plus and LinkedIn to build communication with your potential readers and visitors or customers.
Be sure to understand your audience and look for places where you can find new potential customers.
2. Update Your Profiles
You need to explain to the people what you or your business are doing.
Announcing the updates and the release of new services or products.
The constant creation of interesting content will be a demand for the products before they are released and still allow your users to return to your profiles in order to find new and interesting content.
3 . Use Social Media to Receive Feedback
Talk with your audience. Create a two-way line of communication with your users and listen to what they have to say about you, your products or services.
Show your audience that you appreciate the feedback and invest your time to answer to any questions in order to build trust.
Tip: Make polls or ask for votes, to understand if your products or content are appreciated among your audience.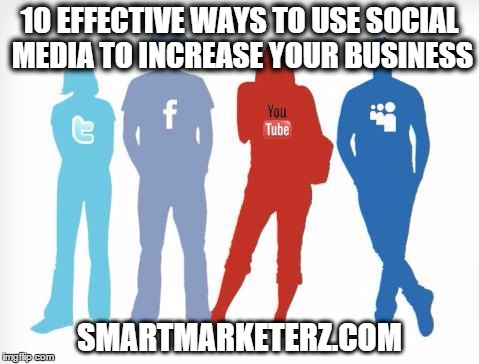 4. Build Credibility
If you give useful information to your social media audience, not only on products but also about your niche, you will build credibility for your brand.
Spread your knowledge and expertise on content sharing sites, will help you build reputation about you and your activity.
This also contribute to the creation of useful links with other people in your niche.
5. Special Offers 
You may want to offer discounts and special offers via your social media accounts.
If you achieve to create a happy customer via Twitter or Facebook, you will receive social signals and recommendations from your users to other potential customers, with consequential creation of sales opportunities.
6. Build Brand Loyalty
If you provide your social media audience with regular information, you will receive credibility to your brand.
If you invest your time to answer to individual questions, comments or concerns on a public page or forum, you will receive trust to your name.
7. Answer to Questions
There are many sites where people go to ask questions that are niche-specific.
You should visit these sites and provide answers to questions that have to do with your niche: this will help building your reputation.
Start with these places:
8. Participate in the Community
You need to search for a social media network or group where there are people with the same interests in your niche and participate to these communities.
You will find in these groups, more audience that is already interested in your services and products.
Take advantage of this networking, with promotional opportunities.
Blogging communities are a great place to find specific audience and create targeted leads:
BlogEngage.com
Inbound.org
GrowthHackers.com
DoSplash.com
Blokube.com
9. Create Relationships
All the people want to receive a personal touch.
Be sure to create stronger relationships with your social media audience through personalized answers and information sharing.
Tip: remember, people react on emotions!
10. Monitor Your Social Media Influence
There are a lot of tools to use in order to track your social media influence online:
Facebook Insights
Youtube Insight
Topsy
Tweetstats
Twitter Counter
Bit.ly or Goo.gl
Klout
Social Mention
Do not even think about use all these tools together. Just try them and see which ones work best for you. You can stick with 2 or 3 of them.
It is important to check them regularly, in order to collect useful information, that you can use to improve your social media performance.
And remember, Be Social and Be Real!
Are you investing a lot in your Social Media Marketing or do you focus on strategies?
Can you add something?
I would love to receive your feedback in the comments below. Thanks!