When you register a new domain name and signup for a hosting plan, you're making a tiny investment in a piece of property.
Not unlike traditional real estate investing.
With a new domain, you've got a slab of property in the desert that's completely undeveloped: no house, no plumbing, no electrical hookups.
You're starting from scratch and you'll need to invest a lot of time and effort into this thing before it will begin delivering a return on the investment you've made either renting it out, building a business, or flipping it for cash.
Do you need help creating a blog from zero? Check this
FREE guide
(+6500 words)
Build the Blog Infrastructure
To start developing your URL into a piece of valuable real estate you must always begin by building out the foundation of the website.
In the beginning, you should release a website with a minimally viable amount of content that will adequately solve a select group of problems about a specific topic.
Of course, while you're creating all that content don't forget to setup an email intake form collect leads or put something to buy on your website.
You want to at least create the opportunity to make money via your website right away.
Build the Blog Traffic
After the foundation of the website has been established, it's time to build sources of traffic to the website.
Building the traffic and authority of a website will be a never-ending job for you as the owner.
Some simple ways that you can begin developing traffic to your website includes publishing content on your own website so you can begin capturing traffic from search engines.
Other traffic opportunities continue to exist in social media venues like Twitter, Facebook, and even relevant forums.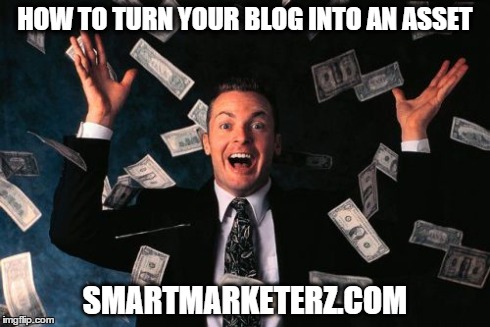 Build the Blog Authority
This is highly related to the build traffic recommendation above. In fact, I almost lumped them under the same headline as Build the Traffic.
When I talk about building authority in this article, I mean building inbound links to a website.
The quality and quantity of inbound links that point to a website are a very important factor in Google and other search engine's ranking algorithms even in 2013.
Not to over simply this topic, but the more high quality links you receive higher rankings you'll get for different keywords in search engines. Don't trust anyone that tells you otherwise.
In addition to getting better search engine rankings, you'll also be creating additional traffic sources with each new link you create.
Build up enough links and all these little traffic sources will begin to add up increasing the value of your digital asset.
A great article to make money blogging, by Jon Morrow of BoostBlogTraffic : Make Money Blogging: 20 Lessons Going from 0 to $100,000 per Month
Creating an Asset
After you've built the infrastructure, traffic, and authority of your website then congratulations!
You've got a valuable asset on your hands.
Even if you're only able to develop, say 50 visitors to your website per day: you'll be able to start generating leads and converting some of those leads into sales.
After you accomplish your goal of capturing leads and making sales you've got a decision to make:
1. Grow it
Invest time and energy developing content and adding to the value, traffic, and authority of your website.
Over time you will be able to generate even more leads and revenue with your blog if you continue to grow it correctly.
2. Let it Sit
Not typically recommended.
Take a break, let the website continue to collect traffic, leads, and make you a little bit of income each month.
3. Sell it
Thanks for websites like Flippa.com, sort of the eBay.com of website buying and selling, if you've got a website that's making $50 – $100 consistently each month you can often sell the domain for 10X – 15X it's monthly earnings.
It's not uncommon for websites that make a paltry $100 per month to sell for $1500.
That's not a bad return on investment.
In fact, there are many guys that make a nice living by building up and selling websites through Flippa.com.
No matter what you decide to do with your website, understand that every website has a real value after you begin to build traffic and authority.
And just like most areas of life, the more you put into the website the more you'll get in return.
What do you think?
Are you viewing your blog as an asset?
Are you making money online?
Please share your views in the comments below, thanks!