Making your blog better should be a priority for any blogger.
There are many ways you can improve your blog, both in content and looks, but here are six ways to make your blog both functional and appealing.
1. Make It Look Good
Let's get to the look of your blog.
The way your blog looks is an important part of how your readers react to it.
No matter how good your content is it can't help you if your blog site repels your readers at first glance.
It is important to make your blog aesthetically appealing and match your content and target market.
For ladies you might have a pink background with kittens and large print.
For kids you could have bright colors and bold images.
With young people you could have a modern layout with funny images in the background.
The idea is to tailor your blog's look to your audience and content type.
You should also make sure the colors are not too bright or too dark and that the overall feel meshes with your topic.
The cat blog should not have dog bones on it or palms trees because those just would not fit.
2. Make It Readable
After you pick a background and theme, then you need to make sure your blog site is readable.
This can mean that your text is visible and easy to read against the color of your background, that your posts are not obscured by ads, and that your posts are not broken up or cut off.
I have come across so many sites with great content but they obviously never looked at the site itself because the text is practically unreadable.
If your readers will have to cut and paste your text into a Word document to read it then you are losing your readers.
Make sure your content gets the showing it deserves and that you read your own blog!
3. Check the Usability
Once the looks are down then you need to get to the nitty gritty.
Does your blog work?
Are all the links working?
Do all the pages load?
All the images?
Can your readers easily go from one post to another?
Do you do inside post promotions to show readers related topics inside your blog?
The usability of a blog determines how long a reader will stay there.
You want your readers to stick around so make sure your blog works well.
This can be hard to do for some bloggers because cookies and the like make it look like everything is working.
Double check your blog on another computer or clean out your cookies again to verify that everything is properly functioning.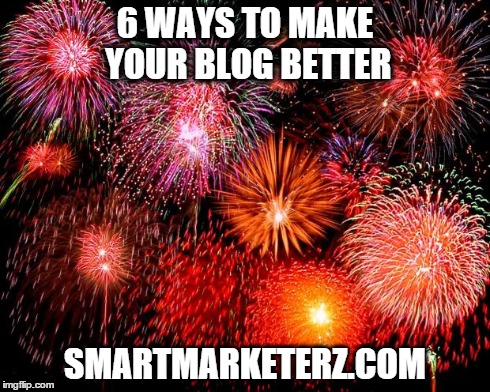 4. Add Images
As part of the look of your blog you should include images.
Images not only increase your blog's visual appeal but they also give you another way to connect with readers.
Many times people look for images on search engines and if you title and tag your images properly they can garner you some visits.
You should make sure your images are free to use or that you created them to avoid legal issues.
You should also try to pick images that are compelling in some way.
They can be funny, weird, colorful, or just look at things in a new way.
Images should always complement your content so make sure that the words and the pictures match.
5. Add Multimedia
Related to images, multimedia like video, audio, or infographics can be a great way to add interest to your blog posts.
It is very simple to make your own videos or create a presentation that can be added to your blog content.
By creating multimedia you can also connect to social media spaces like YouTube.
6. Connect to Social media
Speaking of social media, YouTube, Pinterest, Twitter and Facebook are all great ways to build interest in your blog.
Social media provides many connections and the ability to share posts instantly.
You can connect your blog easily to social media and have it automatically update with each new blog post.
You can also add like buttons and share buttons to your blog posts on your blog site.
A Twitter feed may be another great thing to add to your blog site to bring in potential readers and connect the different followers.
By using social media to expand your reach you can get lots of new organic traffic in with very little effort, once you have established the connections.
What do you think?
Any other tip to add?
Please share your views in the comments below, thanks!