Instagram started as a photo sharing app in 2010, and it had a lot of bugs in the beginning and was not very attractive back then. But now in 2017, with so many new features and exciting updates, Instagram has become one of the biggest social media platforms on the Internet. There are millions of users using Instagram today, and a large number of brands including some big and famous ones are using Instagram for marketing purpose as well.
Instagram has taken flight, and it has changed a lot from what it was in the starting. The stats have shown that Instagram has come a long way.
Here are few interesting stats about Instagram below:
Instagram has around 600 million active users
Well, when it started first it had a minuscule fan following, but as of now Instagram is one of the biggest social media platforms and has over 600 million active users on it.
Though, we cannot tell that how much active the users are in real. But it shows that Instagram has prospered so well.
Around 50 billion pictures have been shared so far on Instagram, and an average 1 billion posts are shared every day
Now these are some mind-blowing stats, Instagram was introduced in 2010, and in seven years we have shared around 50 billion pictures, and that is more than the people on this planet.
Also at average, 1 billion posts are shared every day on Instagram. All of this does sound humongous, doesn't it?

Instagram users like around 5 billion posts per day
A lot of posts are shared every day on the internet and on Instagram too. At an average, the users of Instagram, like five billion posts per day this is why people think Instagram is a "happy world". Talking about engagement? It seems like Instagram is the best you can get.
Often Instagram users tend to buy Instagram likes. The rates for this type of engagement are like $2-$3 for a 100 likes. You can buy Instagram likes and followers from vibbi.com at the most competitive price.
More than 50% of brands are on Instagram
According to a research, more than 50% of brands are using Instagram for social media marketing purposes. This is a very big number and also it is expected that by the end of this year (2017) Instagram will have around 70% brand using it for social media marketing.
Top brands post on Instagram 5 times a week
Well as more than 50% of brands are using Instagram now according to a research in 2015 by Forrester it is known that top brands of world post on Instagram 5 times a week and if you go behind 2015 they were not even posting 2.5 times a week that's how far Instagram has come now.
Consistent filters are being used by more than 60% of the brands on Instagram.
One of the best things about Instagram is that it provides amazing filters for your posts. And according to research, more than 60% of brands present on Instagram consistently use filters for their posts. This number is also just increasing day by day because Instagram has a lot of new features to offer.
Simply choosing a filter isn't just enough—the filter has to be in line with your brand's image. Instagram has some decent starting options, but if you really want to stand out you can use third party apps such as Instasize to build your Instagram aesthetic from the ground up. You'll find more options, more filters, and more customizability than Instagram affords you. This is crucial in making sure that everything you post is on-brand and distinctive.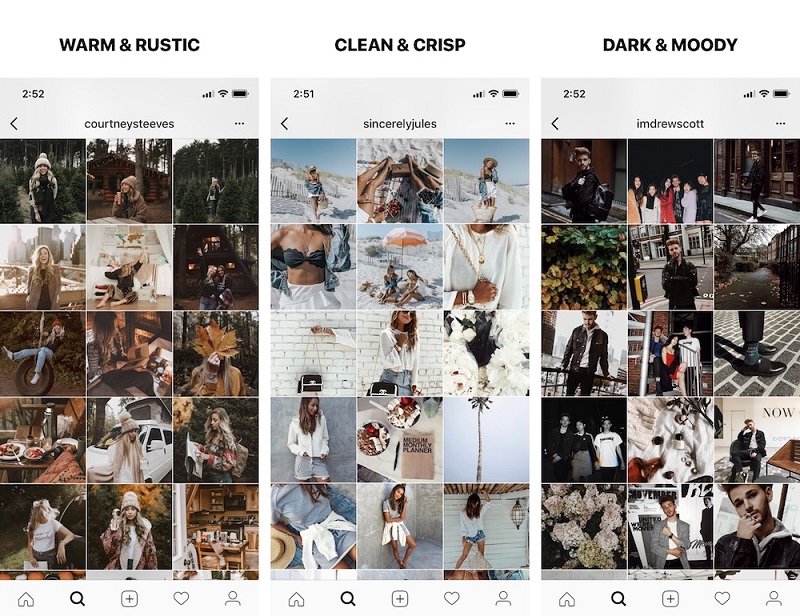 75% of users on Instagram shows reaction after seeing a post
Well, according to research 75% of users on Instagram when they see a post they react with an action like they see a post and then they visit the website of the brand which made the post. This really attracts all the other big brands for social media marketing purposes.
These are some interesting stats for the social media app Instagram that shows us how it has improved over the years and also how it has become one of the top social media marketing platforms. Instagram has prospered a lot, and it can be clearly seen that it is still rising and will accomplish more in the future.