Every day, millions of people are bombarding the internet with posts from blogs that are owned by different people all over the world.
Some people come up with their own blog just to have some sort of diversion. Others do it for serious business purposes.
If you are one of those who are aspiring to be one of the most successful bloggers in the world, you should not miss reading the following tips.
First Impression
Keep in mind that most websites that you find in the internet are designed mainly for VISUAL people.
This goes to say that your blog has to be visually appealing to your online visitors.
Once they stumble upon your blog, the first impression that they will have is going to be about the overall design of your site.
Therefore, be sure that your blog is devoid of too many in-text ads, unwanted pop-ups or advertisements all over it.
If possible, ask for an advice from the experts regarding the overall design and functionality of your blog.
Tip : you can ask the feedback to your visitors, via blog comments!
Quality Content
The quality of your content should not just be high. It has to be VERY HIGH in order to standout from millions of other blogs.
It is through having a very high content quality that you will be able to gain patronage.
Loyal readers will just keep on coming back for more.
They would even regularly check your blog for the latest posts.
Your blog content should be something that is very engaging that your target readers would really take the time to read it, no matter how busy they are.
Your content must provide readers an impression that if they are not going to read it they will miss a part of their life.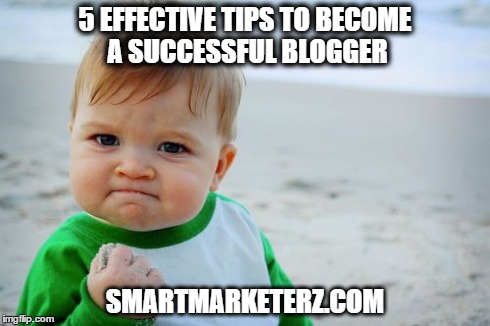 Sensible Interaction
As blog owners, see to it that you take the time to reply to your reader's comments. It will give your readers the feeling that their comments matter a lot to you.
Failure to reply to your reader's comments will only make your comment section useless. You have to respond to them so that you can also expect the same thing from your readers.
This interaction will lead to a growing network of friends who share the same interest with you.
They will sooner or later turn out to be your virtual friends who will recommend your site to their circle of friends. Thus, an increasing patronage and growing number of online readers will be yours in no time.
Learn SEO
Knowing how to drive traffic from search engines into your blog will definitely set you apart from average bloggers. You should know how to link out your site to other trusted websites.
Having ample knowledge regarding the use of targeted keywords, alternative text with images, meta descriptions, meta tags, etc. is crucial if you are to improve and become a successful blogger.
If your blog is promoting a particular product or service, business analytics is a must for you to learn. Business analytic is one aspect of SEO that will help you as blog owner to keep track of your visitors.
This way, you will have an idea as to what kinds of people are visiting your blog so you can tailor your services or products according to your online visitor's preferences.
Distinct Personality
Your blog should have a distinct personality which will add originality into it.
Posts that are written from a first person point of view can be good as it gives your readers an idea who you really are.
Your readers may become more interested as they appreciate the real you.
However, be careful not to overdo it.
Do not talk much about yourself on your blog otherwise the readers will feel that you are just trying to make a "show-off" to impress them.
Remember that your readers thirst for information about anything under the sun but, not about YOU.
They are after the information that you are about to share which will help them in one way or another.
They do not visit your site merely for knowing more about who you really are.
Conclusion
Do not pressure yourself to learn and master all these things at once.
Give yourself enough time to become well-versed with blogging techniques.
Pressuring yourself will only cause you much stress and anxiety which is counterproductive to your aims in blogging.
Just keep writing, posting, learning and improving.
What do you think?
Can you add something else?
Please let me have your views in the comments below, thanks!