While most people often think of Facebook, Twitter, LinkedIn and YouTube when the words social media marketing are mentioned, unknown to them is that blogging forms part of social marketing.
Over the years, blogs have proved to be effective marketing tools for people looking to increase their presence online.
When implemented properly, blogs have the capacity to increase the ranking of your site in various search engines such as Bing, Ask and Google.
High ranking in search engines means more web traffic to your site, which means more sales.
This is something that every online business owner dreams of.
However, only a handful of people have succeeded at making effective blogs.
What do well-liked blogs have in common?
Most visited blogs have a distinct voice.
A voice is an important aspect that every blog ought to have.
A distinct voice not only functions in gaining devout readers, but also in keeping them.
This article discusses into detail how to develop a voice for your blog.
1. Show Your Personality
The first thing that you need to do is build a personality for your blog.
Don't be afraid to express yourself.
Avoid formulating posts for your blog. Instead, allow your voice to stand out.
By doing so, you will be giving your blog some personality.
It's difficult to be different when you write about "blogging" niche (million of blogs are created every year with this subject), but telling what you think about a specific topic is a way to stand out from the crowd.
2. Keep Your Blog Fresh
One of the things that you will find written in most articles about marketing your blog is keeping it fresh at all times.
Fresh and new content means that your readers have something to come back to.
The moment you allow the content in your blog to decay, readers will not have a reason to continue coming to your blog.
One strategy that you can use to keep the content of your blog fresh is posting articles at least three times a week.
Tip : if it happens someday that you do not have time to write, be sure to prepare some articles to be published automatically via your WordPress dashboard in this case of emergency.
3. Keep Your Posts Simple
Did you know that online readers detest complicated blog posts?
If you have difficult to understand content, chances are that they are not actually being read.
The key to increasing readership on your blog is keeping your posts simple.
This will make your readers yearn for more content, thus keep coming back to your blog.
Use a proper language, and be sure to avoid spelling and grammar mistakes.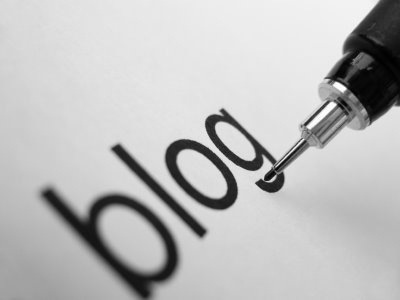 4. Write Interesting Content
One of the secrets to make your blog popular is writing interesting to read content.
Solve your readers problems, write "how to" guide, link to useful resources outside your blog.
You've heard about "Content is King" several times, right?
Then you should take a look to this recent post written by Sylviane Nuccio :
If Content Is King Do You Need To Worry About Anything Else? 
5. Enable and Answer Comments
Comments enable you to know what your readers are thinking.
The more comments you get, the more will help your blog to rank high.
Moreover, comments are ways through which you can interact with your readers.
So be sure to answer to them and engage conversation.
Remember to ask questions!
Also, you need to make a habit of commenting on other people's blogs.
The more your comment on other blogs, the more you are likely to get comments on your blog.
This is an effective method not only to market your site, but also to create connections with other bloggers within your niche.
See in this post at FirstSiteGuide how to deal with negative comments: Blogging: Dealing with Negative Comments, Haters and Trolls.
6. Optimize Your Blog Title
Your title is the first thing that draws readers to your blog.
Therefore, you need to be creative when creating titles.
Not only do titles draw the mind of prospective readers, but also attract the attention of search engines.
Be sure to create also a catchy tagline!
Conclusion
I am sure there are many more ways to improve your site and create an effective blog.
Can you add something else other than what listed above?
Please let me have your thoughts in the comments below, thanks! 🙂