Business presentations: nobody likes them unless they are born show-offs. But the problem is, if you are going to be any success in business, you will have to do plenty of them at some point.
It could be pitching to a buyer to sell your product, or it could be a simple team meeting – it doesn't matter.
There is something terrifying about putting yourself out there. You're exposing your knowledge and having nowhere to hide that ticks all the wrong boxes for most people.
So, if you suffer from presentation nerves, our five-step guide will help. Here's what you need to do.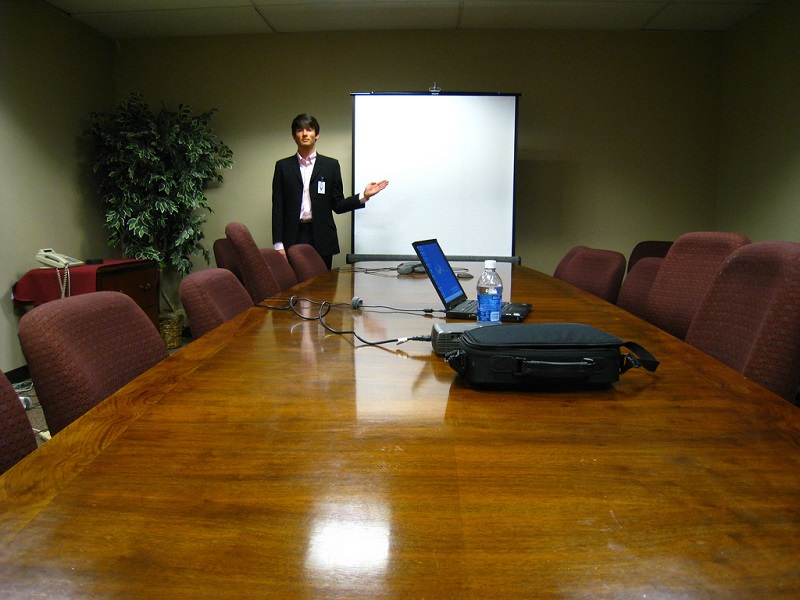 Make bullet points
Two things can make a presentation stilted and unnatural. The first is obvious: it's forgetting your lines.
However, don't think you can get away with preparing a script to read from, either.
All it takes is for one of those bad jokes to go down the wrong way, and you will start to worry.
Plus, you should always address your audience – looking down and reading word for word isn't a professional look. Instead, prepare notes, and make bullet points.
Know your subject inside out. That way, even if you do forget about one particular topic, you can move onto the next without too much bother.
Get protection
If you are shy by nature, then just the simple act of standing up with everyone looking at you can cause panic.
So, if you aren't confident at all, hide behind something. Try using lecterns as a protection from the crowd. It isn't a lot, but it can make a difference.
Not only that, but it will give you somewhere to put your hands, instead of waving them around awkwardly.
Use graphics
Another way of taking away the focus away from you is to use graphics. Dim the lights, show off some sales charts, and support your argument in a visual way.
This is particularly important if you aren't confident with public speaking.
Your inexperience may well show. But, if you can underline your key points in a different way, it will help deflect the negative attention, and turn it into a positive.
Practice
Practice really does make perfect. So, make sure you try your speech or pitch out plenty of times before you do it for real.
Use friends, work colleagues – even your family – to try out your ideas.
And, one great thing to remember is that you aren't dumbing down. If you can communicate complex ideas to your mum, it looks great for your presentation.
Know your room
There are two things to look out for when you are presenting something: your audience, and the room itself. Or, more precisely, the acoustics.
We tend to talk faster when we are under pressure, but a good tip is to listen for the echoes of your voice before starting a new line.
It will give your words more impact, and it will help it sound like you are talking at a more natural pace.
Regarding your audience, it's a good idea to research who you will be talking to. What pushes their buttons, and gets them excited?
Make sure you have something in your speech that addresses what they look for and look them in the eye when you do.
We hope these tips help you ace your next presentation.
Good luck!