With all the recent updates of the Google algorithm (Panda, Penguin, Hummingbird, etc), there was a real massacre in the web.
Google has started a fight, trying to remove the webspam from their results (SERPs), increasing the experience of the users, willing to reward the webmasters that use White Hat SEO, who try to write high quality content, satisfying the search queries of Google users.
If you have been banned from Google, you may request to be included again, but not before you make all the changes needed to your blog, respecting the rules (checking the Google Official Blog may help you).
So both if your website has disappeared from Google or has lost several positions in Google results, you can check in the list below if you find something that will help you.
Here are some reasons why your website has lost rankings in Google SERPs.
1 . The content of your website is updated rarely : publish high quality and original articles with a scheduled time. Google Caffeine favors recent content.
2 . The site does not receive incoming link : check how you can create good backlinks.
3 . The site receives incoming links, but from poor quality websites : use the free tool "Open Site Explorer", to check and manage the links to your blog. Links from "bad neighborhoods" can hurt your site.
4 . The site has participated in the buying and selling links method : contact the webmaster of the websites where your link is listed and ask to remove it. The problem is also defined as "unnatural linking".
5 .Your site has external links that point to websites of poor quality : pay attention to what you link at in your content and if you don't find it relevant, use the "NoFollow" Tag.
6 . The website contains too much advertising, mainly concentrated in the upper part of your pages, at the expense of content : do NOT put too many ads above the fold. If your site is penalized, you will lose rankings and traffic, so if you do not have visitors, no chance of clicks or views on your ads. Probably it is better to enhance the content, not the ads. See Google Page Layout algorithm.
7 . The website contains duplicate content : perhaps one or more sites are also stealing your content. And we all know, Google still has trouble figuring out who is the thief and who is the victim. Use Copyscape and then report the copier to Google. See also other tools to check if your content is copied.
8 . Google is doing a test or changed its algorithm : check what is the related update and make the changes needed.
9 . Google Dance : it is the process by which Google monthly updates its archive pages, recalculating the number of links that each page receives from other (backlinks) and the value of each of them. The Google Dance takes a few days. For a long period has always occurred at the end of each month, but its activation does not follow precise rhythms and therefore may be subject to advance or delay.
10 . You website is too slow to load: be sure to install a Cache Plugin, if you use WordPress, so it can cache pages and deliver them without accessing the database, making your site much faster. And if you host your site, avoid hosting services that cause any delays. I use HostGator .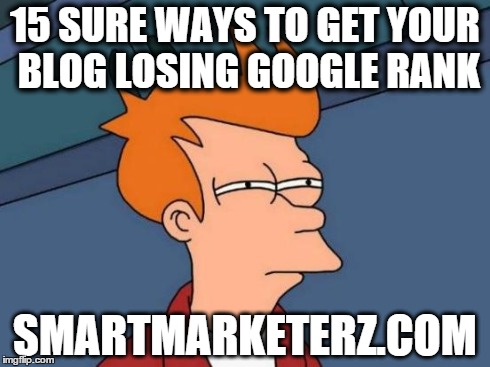 11 . The visitors that arrive on your pages, almost immediately click the button "Back" browser : this is a sign that they have not found what they were looking for. Focus on write something useful and interesting for your readers.
12 . There are too many incoming links pointing to your homepage only : vary both the page and anchor text for your incoming links. Here's the exact "anchor text formula".
13 . Your competing websites have improved and you have lost positions : check your competitor sites and see how you can improve your blog.
14 . Your website was temporarily inaccessible for long time in the last period : check your hosting services.
15 . Your blog has a malware : check any communication from Google in your Webmaster tools and try to clean your websites. In this time, the visitors will have a warning that the site can be harmful, so probably they do not want to visit it. After you have cleaned your properties, inform Google that will check again your site and eventually remove the alert.
In few words, you want to respect all the guidelines published by Google Official Blog, which shows how to build a high quality website.
It is important that you check all the statistical analysis tools available, such as Google Analytics or Google Webmaster Tools, so you can find out any traffic collapse in the days of a Google algorithm update, and make any related improvements.
I suggest you also to take a look to Google Webmaster Profile on YouTube : there are many useful videos, from which you may learn a lot.
Often, a deterioration in the Google SERP is not synonymous of a penalty.
It could be a temporary event. But if not, it is worth analyzing all the factors that Google consider to rank the web.
Additional information can be found at Google Webmaster Guidelines : read the
Best practices to help Google find, crawl, and index your site.
In your opinion, what are the most common mistakes or more dangerous behaviour of a blogger ?
What is your experience?
Have you gained or lost ranking in Google lately?
Please share your experience in the comments below, thanks!