The headline is the most important part of your entire blog post or content.
It is critical that you grab your readers instantly and allow your headline to demand attention.
By implementing a few of these methods, you'll be well on your way to increasing your conversions and profits.
1. Speak Benefits
Some of us know that speaking benefits instead of features has proven to be more successful at selling products, but how about headlines?
Using benefits in headlines allows the reader to understand what it is the content will help them accomplish. By speaking benefits, you are one step closer to getting them to be curious and respond to what you have to offer, whether it be a product, service, or simply advice.
When crafting your headline, think of how that particular content will benefit your readers and speak that through a few short words that says it all.
Using benefits in combination with the two other methods listed here will make your conversion rates soar and rake in some more targeted traffic for you.
2 . Use Numbers
This surprisingly simple method can be the most important.
Numbers make people click.
Pick up a magazine next time you're in the grocery line, the covers scream benefits with numbers that demand attention.
Cosmopolitan and GQ magazine are famous for this, and their tremendous success can be attributed to this method.
For example this article on Cosmopolitan has a very catchy title :
7 Things Chicks Do On Facebook That Guys Hate
Think about it, the magazines job is to get you to first notice it out of all the others, be curious enough to crack it open, and intrigued enough to buy it, all in a matter of minutes.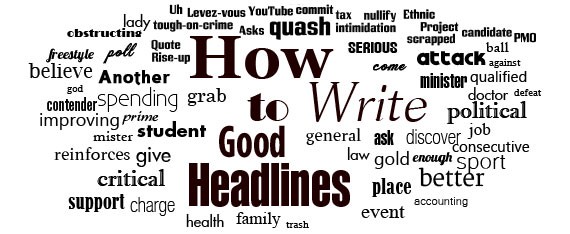 Much research has gone into the effective of using numbers in titles and headlines and it has proven to be successful.
You will also see many famous bloggers using this method without the readers having any idea, unless it is used too much.
So try using some numbers in your headlines, for example "4 ways to impress women immediately" would be a hit for a fashion or men's wellness writer.
Find out who your target market is and what makes them click, use this information with numbers and you have a deadly arsenal.
3 . Make a Demanding Statement
We see this all the time without consciously noticing it.
Making demanding statements can help you grab readers attention, speak benefits, and even use numbers at the same time.
For instance, "How to Save $300 of Extra Cash Every Month" would cause many American to read the information immediately.
Even if they aren't genuinely interested, it caused them to be curious enough to  pick it up and take a look.
By getting more people to even review your material, you are increasing your chances of a conversion.
Making statements that cause people to be curious and shocked can drive click through and conversion rates through the roof.
Try using demanding statements in your headlines and start enjoying the benefits of online success.
Conclusion
Using these three methods together can prove to be very beneficial to writing killer headlines that attract and engage readers.
Simply practice writing some headlines that contain these methods and find out if they seem engaging to you and others.
If implemented correctly, you could increase your conversions, allowing your return on investment (ROI) and profits to grow.
What do you think are some good methods to use when writing killer headlines?
Do you have some other tips to add?
Please let me know in the comments below, thanks!