If you are in search of a web hosting service that will meet both your frontend and backend needs, cPanel hosting is what you are looking for. MilesWeb provides the best web hosting services and it excels in cPanel hosting because of the variation of features and functionalities that it provides. With MilesWeb cPanel hosting, you can be absolutely tension-free as your blog, CMS or website will be running efficiently in no time. cPanel is one of the most extensively used control panels, especially on Linux servers. MilesWeb is a renowned company which is famously known for its efficient and swift web hosting services in India.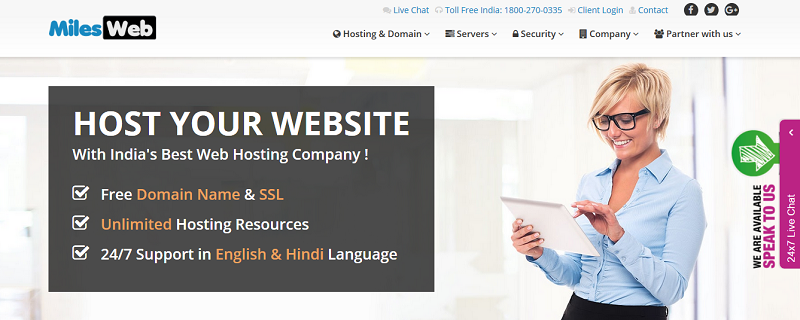 What is web hosting?
Web hosting services let you publish your website or blog on the internet which the entire world can have access to. It will go online on World Wide Web and you will have your own domain. You do not need technical knowledge or skills for hosting your website. All you need to do it purchase your desired package from the best web hosting service provider around and let your web host team do the work for you.
What is cPanel hosting?
cPanel is among the most widely used web hosting services and this control panel is commonly used on the Linux servers. MilesWeb is the best web hosting service provider and all its shared hosting plans come with cPanel which provides extra flexibility to the user. With cPanel web hosting from MilesWeb, you will have access to unlimited database, you can create multiple email accounts, manage domains, host websites or blogs, host or manage sub-domains and much more. If you choose MilesWeb as your web hosting service provider, you will also get to install several programs like WordPress, Drupal, Joomla and various 1 click apps. As such MilesWeb is considered to be the best web hosting service provider in India excelling all its competitors.
What are the cPanel hosting packages?
Take a look at the three packages offered by MilesWeb on cPanel hosting. Prioritize your needs and choose the package that suits your work the best. All the packages come with an SSL certificate and a free .in or .co.in domain that you can use for a year, absolutely for free.
Economy package- This package hosts one domain and comes at a price of $1.67/month only. With unlimited bandwidth, it provides an ample SSD space of 1024 MB. It is equipped with 3 MySQL databases and supports 10 email accounts.
Value package- This package hosts one domain and costs just $3.50/month. It provides unlimited SSD space and unlimited bandwidth. Equipped with free SpamExperts, it offers unlimited MySQL database and supports unlimited email accounts. This package holds a term of three years.
Unlimited package- As the name suggests, you can host unlimited domains for three years at a price of $6/month only. It gives you unlimited bandwidth and SSD Space with free SpamExperts. It also gives an unlimited number of MySQL databases with unlimited email accounts support.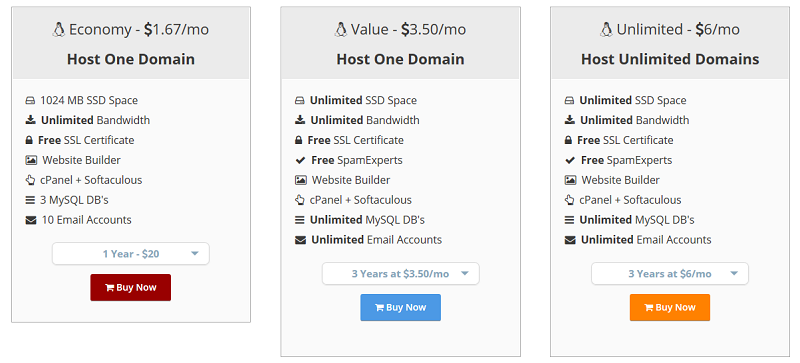 What are the features of cPanel hosting that MilesWeb offers?
MilesWeb cPanel hosting is notable for its pronounced features that make the whole process very convenient and customer friendly. Here are some of the vital features to check out:
Setup your account in no time- You don't need to spend a long time in setting up your account. As soon as your payment has been confirmed, your website goes online.
Great uptime guaranteed- Uptime is an important factor in web hosting and MilesWeb offers 99.95% Uptime which is a highly important factor.
Free SSL certificate- All the packages come with a free SLL Certificate which creates a good reputation of your website and you will get more and more visitors.
Unlimited email account support- It offers unlimited POP3/IMAP email accounts. Since it is supported by Webmail, you can access from any place and at any time.
Latest MySQL and PHP versions- The upgraded versions of PHP and MySQL are available for every server.
Install 1-click apps- You can install I click apps for free with the aid of Softaculous which is available for every package. You can get apps like Joomla, WordPress, Magento and more.
Money back guarantee- You are covered with the assurance of MilesWeb with Anytime Money-Back Assurance for the entire life.
Daily upgrades and strong security- Security is important and MilesWeb ensures that by making regular updates on security initiatives.
Ecommerce store- When you purchase cPanel hosting services, you also get access to shopping carts such as ZenCart, Magento, Prestashop, CubceCart and lots more.
Why should you choose MilesWeb?
If you are wondering why you should go for MilesWeb web hosting services, then go through the points detailed here. Apart from the exclusive features offered by MilesWeb, it stands out from all web hosting companies because of the following reasons:
Flexibility- MilesWeb cPanel hosting services are highly flexible and can host a personal blog, ecommerce website, ecommerce store or a business website. The regular upgrades and superior packages come with the maximum number of benefits.
Customer support- The top priority of MilesWeb is the customers and their needs. The friendly and extremely helpful customer support is always ready to cater to your every need. Free technical support by highly skilled professionals is also provided as and when required.
Highest uptime and excellent IT infrastructure- MilesWeb offers the best uptime which is 99.95%. The high quality infrastructure is above par with other companies and it is equipped with the latest Intel processors and its hardware is from Dell.
User friendly settings- With a simple-to-use and user-friendly control panel, you can host domains, sub-domains, install apps and much more.
MilesWeb cPanel hosting has the strongest infrastructure with premium quality features that can cater to diversified needs. You will be benefited in the best ways possible if you go for MilesWeb hosting services. So, opt for the lucrative packages offered by this web hosting provider and establish your business identity in the web world.
This is a contribution by Paul Rodricks.