The Alexa Rank is a method of evaluating a blog or site based on the traffic generated.
It would be an excellent method of calculation, but it involves only the users that have installed the Alexa toolbar in their browsers.
This peculiarity makes the evaluation not so accurate and rewards, for example, the technological blogs, which users and visitors are actually more inclined to install the Alexa Toolbar, in relation to readers of blogs in different niche, which in many cases ignore the existence of this tool.
You can agree or not this point of view, but most of you will surely be interested in increasing the Alexa Rank of your blog for a simple reason:
Advertisers and webmasters use it to help them determine (right or wrong, up to you decide) the worth of your site and how much pay you, for example, for sponsored posts.
The popular network Text-Link-Ads (now MatomySEO) decide, based on Alexa Rank, what you will get paid for a link or content placed on your site.
Also "Link Vehicle" is another site that uses this evaluation tool when they have to place your blog in their marketplace.
If you want to monetize your blog with these or some other services that use actually the Alexa Rank, then you have to increase it.
How to Increase the Alexa Rank of Your Blog
Increasing the traffic of your site will increase your Alexa Rank.
The more you get valued from Alexa, the lower will be your rank (as opposed to the PageRank).
Under 100.0000 of value, the measurement is more accurate and precise: of course, your goal is to get below this threshold and lower and lower!
The first advice is to always write quality content and achieve a base of loyal readers.
8 Tips to Follow
Here below you find a list of tips to follow in order to increase your rank.
1. Alexa ToolBar
Download and install the Alexa Toolbar in your browser (if you have not already done it) and join the circuit of the Alexa sites.
2. Alexa Widget
Install in your blog the Alexa widget.
This widget will communicate with Alexa and count will be loaded every time you visit.
3. Invite Your Readers to Use Alexa
Encourage your readers to use the Alexa toolbar.
Remember the more readers will visit your blog with the Alexa Toolbar, the more your rank will improve.
4. Write Blog Posts on "Alexa Ranking" Topic
Like the one you're reading.
Write your own review on the top 100 rated Alexa sites and include your URL.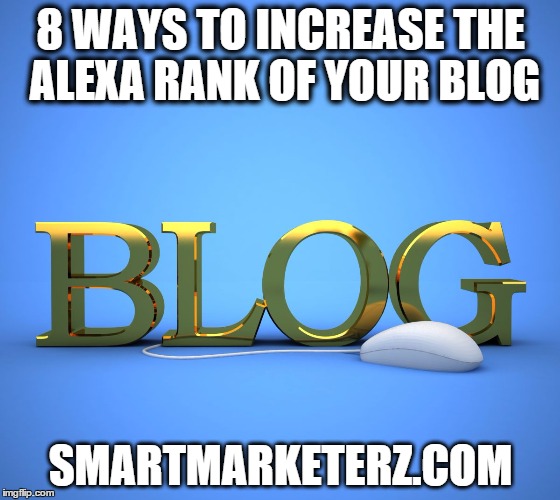 5. Social Bookmarking
Submit the best links and articles of your site to StumbleUpon or Reddit (users are quite inclined to love tech there). This will bring huge amount of traffic to your site and contributes to increase your Alexa rank.
Also use blogging communities.
6. Write Articles for Webmasters
Write content related to webmasters, as most of them use the Alexa toolbar.
So if you want them to visit your site and increase your Alexa ranking, then you may write useful articles related to SEO, Internet Marketing or webmaster tools.
Finally share your posts on webmaster forums and social networking sites.
7. Blog Commenting
Comment on blogs with high Alexa Rank.
Placing a comment on higher ranked blogs should give you more traffic, plus you will build higher value links, improving your Alexa Rank accordingly.
8. Increase Your Traffic
Increasing your blog traffic will automatically improve your Alexa rank.
So if you produce quality content and promote your posts in the right way, then your Alexa rank will much probably increase.
Do you pay attention to Alexa rank?
Do you have any other suggestions related to this topic?
Please share your views, thanks!