There was a time when SEO was all about helping the search engines to understand your content (you know, by including the right keywords in the right places etc…) and nudging them to rank you top by showing them loads of juicy, if not always high quality links.
But times have changed.
You can certainly still put those keywords in your pages, but Google is pretty good at knowing what your page is about anyway – so, often the right keywords isn't as important as creating content with the right context.
And you certainly shouldn't bother with those questionable quality links anymore.
What SEO is about now, is building a better website, and as part of that aim, we all need to be able to write/develop better content.
Here's how.
Keyword Driven Content
Using keyword research to come up with content ideas is ok, in fact, it's often a good idea.
By selecting keyword phrases that you know people are searching for, you can come up with relevant content ideas.
Don't make the mistake of writing something barely relevant that just happens to mention the keywords you are targeting, instead think about what the user is actually looking for when they search for that phrase – think of your hypothetical search engine user and write the content for them.
TIP : need a tool to give you ideas on keywords? Use Google Trends to discover the hot topics of the moment or what is the trend in relation to certain search queries. You can even filter per top Regions or Cities.
Scoping The Competition
If you want to rank for a given phrase, look at other pages ranking for the same phrase.
In particular, check out the top 5 results – these are the pages that Google thinks are best at answering the user's question.
Try to spot the commonest themes in the content, key points that you may not have thought off.
Also try to think of information that they are missing or anything that could be improved upon.
Take notes on everything, this will form the basis of your content.
Here's a post on Moz blog you want to read: How To Write Great Content That Deserves To Rank – In 4 Simple Steps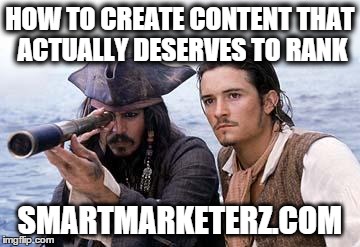 Adding Features
Content is important, but also look for popular features and functionality.
For instance, if you want to rank for something link "Comparing used cars", you might well have an advice article about exactly that, but you could also add a tool that helps the user to compare cars.
The point is that you want your page to be much better than all of the competition.
It needs to be more complete, more up to date, easier to use etc.
A Well Formatted Post
Remember to put your readers first, when creating new content.
From a recent roundup made by Andrew Warner, it comes out that after a catchy headline, what makes visitors stay on your blog is having a well formatted post, with proper sub headings (H2, H3, etc), relevant featured image and easy to read paragraphs.
Check out more at the original post : 
17 Bloggers Reveal Their Reasons For Reading A Blog Post (and Why A Great Headline Isn't Enough)
What If You Can't Compete?
In a word: Don't.
Another great thing about following this process is that you will discover how strong the competition is.
If you can't think of at least a couple of ways to improve upon what's already out there, you probably shouldn't target that keyword.
By doing thorough keyword research, you will undoubtedly find a few phrases which are not being served very well.
Any time you Google a phrase and find a tenuously related Wikipedia article in the top position; that could be a sign that you can easily rank for that phrase.
Putting It All Together
Once you have done your research you should have a pretty good list of key points to mention, things you want talk about etc.
Use this list as a structure for your content, rearrange it and add anything else you think of along the way.
Try to form logical headers and break up your content to make it easy to read.
Above all else : make sure that the end piece is thorough and comprehensive.
Summary
Writing great content takes a little practice, but by following the steps above, you should come out with a webpage that solves the users query very succinctly.
In time your website will be better as a result and your rankings should naturally improve.
What do you think?
Do you have any other tips to add?
Please share your views in the comments below, thanks!