When you are creating a website (or working on existing ones), you don't want random visitors checking your pages until you are ready for them.
Or even worst, you don't want users to land on your site and find it offline.
In both cases, what you need is an "Under Construction" or "Coming Soon" page.
Here's how you can achieve this.
Under Construction Page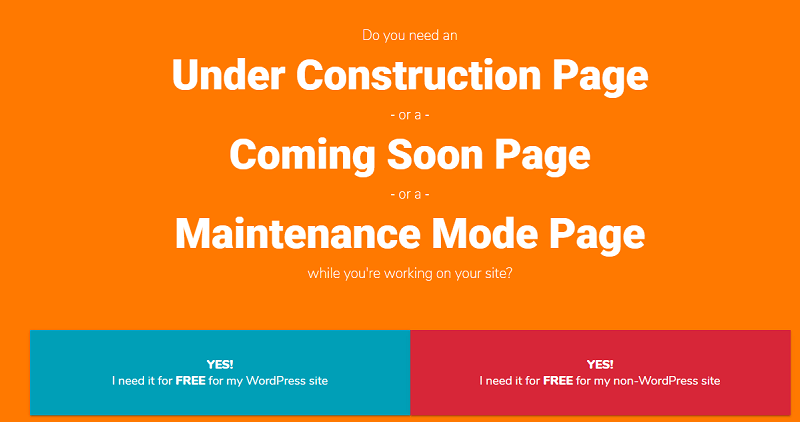 So, you want to create a coming soon or a maintenance mode page?
What you need is Under Construction, a free WordPress plugin that helps you exactly with that.
Whether you need to change the design of your site or update the layout, here's an easy to use plugin for all those situations when you have to hide the site behind an Under Construction page for a while.
The following are the main options of this plugin:
Under construction mode – off / on
End date & time – automatically disable construction mode on a set date
Google Analytics Tracking ID – enable tracking via Google Analytics
Theme – a new one is added with each update, see screenshots of available themes
Custom CSS – adjust any part of the page to fit your needs
Title – page title, for SEO
Description – page description, for SEO
Headline – main headline/title
Content – anything you need to display, from styled text to images
Login Button – show a descrete link to the login form, or WP admin if you're logged in
Social icons/links – new ones are added with every update; let us know if we missed your favorite ones

Facebook
Twitter
Google+
LinkedIn
YouTube
Pinterest
Dribbble
Behance
Instagram
Email
Phone
Skype
WhatsApp
Tumblr

Whitelisted User Roles – user roles who see the site, instead of maintenance page
Whitelisted Users – users who see the site, instead of maintenance page
How to Install Under Construction Plugin on WordPress
For the installation of the plugin on your WordPress blog, you should proceed with the usual routine:
Opening the WP dashboard on your site, visit the Plugins tab, then click Add New
Enter "under construction page" in the search field and then hit Enter
Plugin will show up as the first on the list, click "Install Now"
Activate & open plugin's settings page located under the Settings menu
Or, you can simply download the plugin for free in the WordPress.org page.
Under Construction Page Menu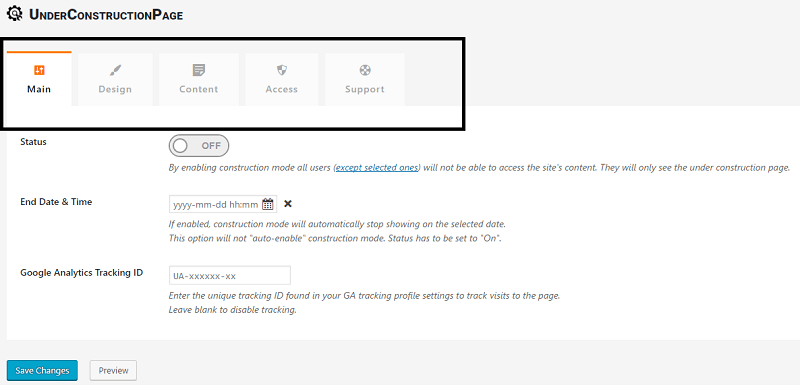 The menu offers 5 different tabs:
Main
Design
Content
Access
Support
Each part of the menu is really easy to understand.
The Design tab offers beautiful templates you can use for setting up the coming soon page on your site.
Here's one I really like: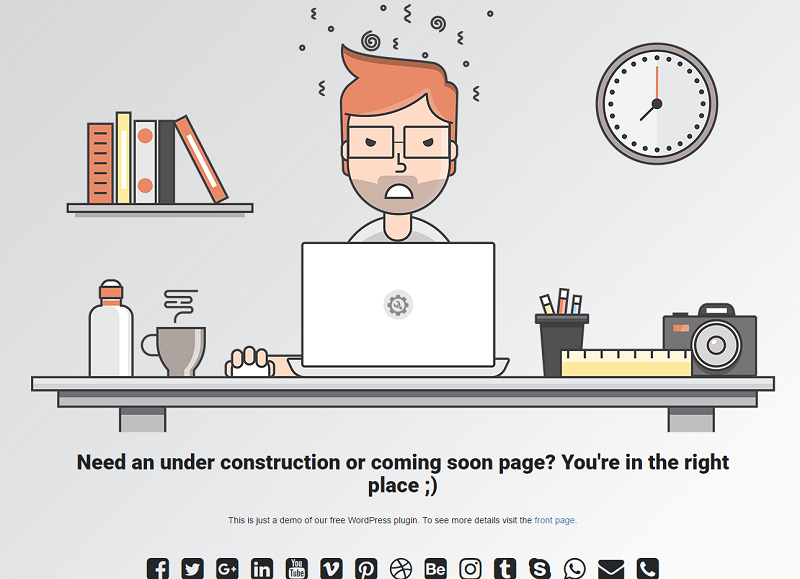 There are many design to choose from and new ones come out twice a month.
Now Over to You
I find the Construction Page plugin a simple and practical solution for building a maintenance mode or coming soon page.
The plugin is so easy and quick to use!
Now, it's your turn.
Have you ever built a coming soon page for your site?
If so, which solution have you used?
Please share your experience in the comments below, thanks!